Congratulations on your forthcoming celebration and thank you for taking the time to visit my page!
Why have a Humanist ceremony?
A humanist wedding is a non-religious ceremony that is deeply personal and conducted by a humanist celebrant. It differs from a civil wedding in that it is entirely hand-crafted and reflective of the non-religious beliefs and values of the couple and, it is conducted by a celebrant who shares their beliefs and values.
Your Humanist ceremony will be totally about you: you will receive an individually crafted, distinctive ceremony that will reflect who you truly are and what you both care about most. A joyful, inclusive, non-religious occasion that expresses your personal values, your individuality and that mirrors meaning in your lives.
You can hold it virtually anywhere you want, any time you want and you can include pretty much whatever you want: choose your own vows, wording, readings and music; include symbolic gestures and rituals that really mean something to you; get your children, family and friends involved – pets too! Engage your creativity and be as innovative as you like!
Get to know your celebrant: you and I will meet and work together, getting to know each other over time, so that your unique story is incorporated into a script that makes the event personal to you. Something you, your family and friends will share, cherish and remember for years to come.
My writing style is pretty straightforward with a dash of humour here and there to reflect the happy nature of the day. My delivery is relaxed, warm and inclusive whilst never neglecting the sincerity and importance of the occasion.
Whether you are considering a wedding, a partnership ceremony or a renewal of vows, if you feel that I'm the celebrant for you, get in touch for a friendly chat and we can take it from there!
I would love to hear from you! (Evenings and weekends are fine).
Call me on 07792 357212 
Or, send me an email: johnny.coleman@humanistceremonies.org.uk
What is Humanism? What is a humanist wedding? How much do you charge? – for answers to these questions and lots more, have a look at my Fees&FAQs page.
"You crafted something so very special for us – many, many thanks from us both. You made us both cry (but in a good way)! We will never forget it."
"We would like to thank you for all your work on the script and the ceremony as a whole, as we both feel it was a really lovely ceremony that helped bring a focal point to the day. We have heard a lot of nice comments from friends and family about it as well, who said the ceremony was a really personal and meaningful occasion."
"Johnny, thank you so much for our perfect wedding – it was absolutely how we wanted it, personal, beautiful, relaxed and fun! People keep telling us how much they loved it. And thank you for all your help, ideas and support – you really did a great job!"
"To Johnny. Thank you so much for a wonderful wedding ceremony! We hope you successfully avoided all the sheep poo on the day!"   (Explanatory note from celebrant: we were sharing a field with a bunch of wooly animals).
"Johnny. thank you so much for being there on our day. You really did an amazing job and we are so grateful for you being there. You made it really personal. Thank you."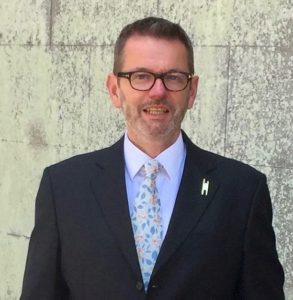 A little more about me
I have worked for many years in both the public and charity sectors in roles that champion and support matters of importance to me, including disabilities; health; end of life care and equality and diversity.
Now, when I am not celebrating weddings, I spend my time public speaking and providing support for, and training to, people caring for family and friends who have a life-limiting illness or a disability.
I enjoy writing, spending much of my time creating fiction for young adults. Other than that, I love to travel, exploring all that the world has to offer.
I also like to make the most of the glorious Gloucestershire countryside where I live, walking with my dog Ludo, a stubborn and ageing Welsh Terrier.