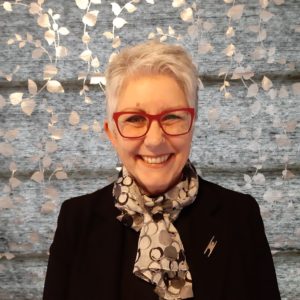 I was delighted to discover Humanism after years of reluctantly referring to myself as an atheist – which always felt like a negative stance. Humanism is a belief rather than a non-belief. It is an approach to life based on reason and our common humanity. Humanism allows me the responsibility for living my one life in the best way that I can for myself and for the wider world.  Once I had "realised" that I was a Humanist, it seemed a natural step to train to become a funeral celebrant.  I chose to train with Humanists UK because of the ethos behind the organisation, the high quality of the training and the requirement for those high standards to be maintained through continual professional development and peer reviews.
I have lived in the beautiful county of Norfolk since 1994 when I moved from the Black Country – a place that is still close to my heart.  Our home is in a large village and our house backs onto a small chapel cemetery. Although this is a peaceful place and can be pleasant to walk around, most of the funeral ceremonies I have witnessed there have a religious element that has always felt meaningless to me. Whilst I believe that everyone has the right to live their life with or without religious faith, I also believe that those with no religious faith should be able to have a funeral that is meaningful and relevant to them. A Humanist funeral, individually tailored, can achieve this. However, the aim is to be inclusive to all. Anyone attending a ceremony with a religious faith will have an opportunity for silent prayer during the reflection.
I have spent much of my working life in the NHS and this has required me to develop my skills in communication and empathy, and has also fulfilled my love of getting to know people.  My many years of talking to people has shown me that there is no such thing as an "ordinary life".  Each life is unique and will have a story behind it.  Having the opportunity to hear a person's story and to tell it with compassion, honesty and warmth is always my aim.
Our society has a tendency to pretend that death doesn't exist, that it should be hidden away and not discussed. Ageing and death is seen as a subject and a process to be avoided. However, done well, a funeral can be a real celebration of life as well as an acknowledgement that we are saying goodbye.  It is a privilege to work with families to offer the best possible celebration of someone's life. There is no greater honour than to be included in the planning of someone's funeral and to be invited into families' homes to have conversations at a time when people can be struggling to find a way through the emotional and practical processes. Being a Humanist funeral celebrant is liberating. We recognise that ritual is important but we are not bound by religious rules. Within reason, anything goes!  Getting a ceremony right for a family is the most important thing for me, and continues to drive me forward to continue with this role.