Sometimes people like to know a little bit more about me whereas others are solely concerned to ensure that I am the right person for the job. I understand both perspectives and so if you're in the former camp, please read on. If not, please press 'back'.
Geography: I'm originally from Essex, something I'm allowed to joke about but others aren't (unless they are similarly afflicted). I've found myself permanently in Gloucestershire via seven years in Sheffield and four years in the US. I am now very pleased to call Cheltenham home.
Domestics:  I've been married since 1999 to the long-suffering Mr Hart (who is getting a little fed up of the dramatic proposal stories I get to hear. He thinks they put 'ordinary people' to shame).
We have two lovely and funny children together, now both at university. One was American-born and the other is a native Gloucestrian. Sometimes work and home life combine and I find my family amongst the guests; indeed my son got to spend his fourteenth birthday in Tuscany when he accompanied me on a particularly tough gig conducting a wedding there.
Work: I was recently asked whether, in addition to being a celebrant, I also have a "normal job". The question made me smile as I appreciate that being a humanist celebrant is an unusual role. In fact, like most celebrants, I do have something of a "portfolio career" with a number of complimentary roles but being a celebrant is certainly the most varied and interesting part of  my working life.
In a previous life: I've a degree in Politics, a Masters degree in Social Research Methods and a professional marketing qualification. Before becoming a celebrant I worked in Higher Education and local government in marketing / project work roles. I then took time 'off' to have children, which happily coincided with our four-year stint in America. I've been a celebrant since 2008.
Fun stuff: Outside of work, family and my desperate attempts to grasp the art of 'loose lead walking' with the dog, I enjoy music (I play the oboe badly but enthusiastically in a local orchestra), reading, politics and Eurovision. I love good coffee, Rioja and real ale. We travel as much as leave, doggy care and responsible budgeting allows.
My husband and I are keen TV quiz show aficionados and have been contestants on a number. You only have to ask and I'll be happy to talk you through the highs and lows.
I'm also a school governor and am also actively involved in the Gloucestershire Humanists group as a committee member of too many years. As I approach 50, I decided to become a cliche and started running and can be seen pounding the streets doing a very slow 5k a couple of times a week. Oh, and I'm actually so middle-aged that I really enjoy gardening too.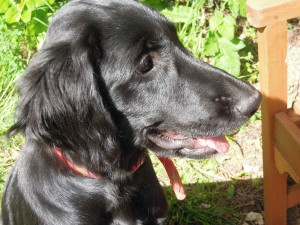 The dog:  Nine years ago I fulfilled a life-long ambition by becoming a dog owner. Her name is Jenny and she's basically a black golden retriever. She has brought many more dimensions to our family life, some of which are very welcome and others we really could have lived without. It you visit me at home, I can guarantee that she will force an introduction and beg for her tummy to be rubbed.
But it's not about me. Or even the dog.  I provide this mini biography so you might get a sense of whether I am the right celebrant for you. In other words, do you think you'll be comfortable chatting to me about your life, your priorities and what is important to you about the ceremony? Working together would be entirely about people or person the ceremony is about. We need never discuss my hobbies, family dynamics or summer holiday plans. My role is to work with you and to create an occasion that's right for you.