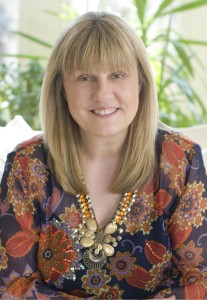 I think weddings should be fun. Whilst marriage is a serious undertaking with commitment, mutual respect, equality, shared responsibility, and, of course, love, at its heart, there is no reason why these should not be expressed and celebrated in a spirit of fun and joyfulness. A Humanist ceremony is the opportunity for a couple to declare publicly their love for each other and their aspirations for their future together in a way that reflects who they are and their beliefs.
"We had the most idyllic wedding and honeymoon. We both want to say a big thank you to you for helping us to have the ceremony we dreamed of. It was amazing and we are still living high on the happiness of the ceremony and day. It was perfect in every way."
Why have a Humanist wedding?
For couples who are not religious a church wedding can feel at odds with their beliefs, while a civil ceremony often lacks the personal element which is a crucial part of a meaningful celebration of a couple's commitment to one another. The wonderful thing about a Humanist wedding or partnership ceremony is that it is personal and unique. The sentiments expressed may follow universal themes but they will be conveyed in a way that is wholly representative of you, as the couple, and your shared ideals.  You can choose the location, the nature and style of the ceremony, the readings and the music. Together with your personal stories these will help create the atmosphere and tone you feel is appropriate for you.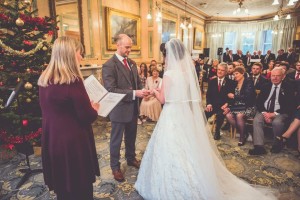 You may wish to choose your own words in the vows and aspirations you make to each other and to express your personal view of the marriage journey on which you're both about to embark.  This might seem daunting at first but it is something that you and I, as the celebrant, would work on together.  In this way you can be sure that you will have the ceremony you both want.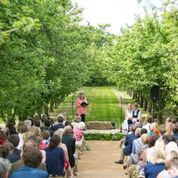 "Thank you so much for being our celebrant and for helping make our wedding so special and meaningful. We loved the whole process of putting the ceremony together with you and you were completely right… saying such loving, positive words to each other in front of our dearest friends and family had a power that was unexpectedly moving, even though we say "I love you" all the time to each other."
Symbolic Acts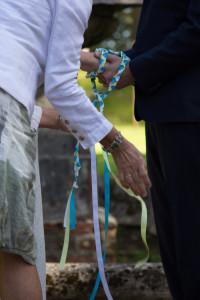 You may wish to incorporate a symbolic act into your ceremony…  it can add special significance to the occasion.  This might be an exchange of rings or flower garlands, the lighting of a wedding candle, or hand fasting or tying the knot with ribbons as you make your binding promises. Any symbolic act will be accompanied by an explanation of its meaning to you. Click here to see some examples.
Working Together…
As your celebrant I'll work closely with you to create the ceremony you both want. We'll meet up so that we can get to know one another and explore your thoughts and ideas about the way you would like your ceremony to unfold. There are the practicalities such as the readings, music, vows, symbolic acts, who you would like to be involved in your big day and how these might all work in your chosen venue. And there is your personal story, how you met, what you love about one another and what your ceremony means to you both.
Following our conversation, I'll then write a first draft of the ceremony and we'll work on this together until you feel it is absolutely right for you. A rehearsal on the day before the ceremony is very useful and will help make sure everything runs smoothly on the day and everyone understands and feels comfortable with their role. And, of course, on the day itself I'll be there to lead the ceremony and support you both.
"Thank you so much for the amazing job you did in helping us to make our wedding such an unforgettable day. We have had so many comments from our friends and family about how much they enjoyed it and how moving the ceremony was. We were so impressed by your calm, unruffled bearing in the face of all the chaos."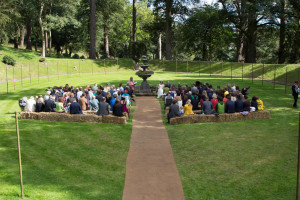 What Training Do I Have?
I have been trained and accredited by the British Humanist Association to conduct wedding and partnership ceremonies. I am covered by their Commitment to Quality and Code of Conduct. I am fully covered by the BHA for public liability and professional indemnity insurance
Getting in Touch…  If you would like to know more about creating a Humanist partnership or wedding ceremony, please contact me by phone or e-mail. I'd be delighted to chat.
Are Humanist Weddings Legal?
Humanist wedding and partnership ceremonies do not currently have legal status in England and Wales. Most couples complete the legal formalities at a Register Office, but it is their Humanist ceremony that truly celebrates their life-long commitment to one another.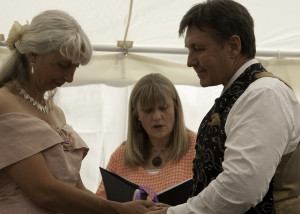 "Thank you for all your hard work and for putting together a wonderful service. Everyone mentioned how lovely it was and that they found out something new about us, which was a great bonus. We had an absolutely perfect day." 
Watch our video and find out more!