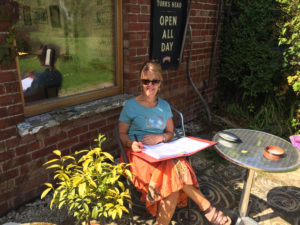 Hello & Welcome!
My name is Kate and I'm proud to be a celebrant of weddings, naming and funerals.
I live in Louth and work mainly in Lincolnshire, sometimes crossing the Humber Bridge into Hull and beyond.
I love my garden, painting (not very good, mainly portraits), writing (prose and plays), music (rock, folk, opera, blues), dancing (not 'Strictly' style), being beside the seaside and playing & singing in a local Ukulele Band (definitely fun). Oh – and my partner, Christopher and my recently moved out, daughter!
How did I come to be a celebrant?
Many people ask this question – so here's the answer! I came to humanism by chance, following the deaths of two very close friends, whose funerals left me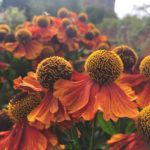 feeling anything but comforted. Around the time, I was a student at Brighton university where I made friends with someone who described herself a humanist. She explained humanism quite simply as a philosophy concerned with understanding and making sense of the world around us without reference to or reliance on, any god or supernatural force and trying to live our lives responsibly, mindful of the impact we have on each other, society and the environment.
Realising I was a humanist, led me to the British Humanist Association (as Humanists UK was then known) where I learned about the role of humanist celebrants and the training they provided. I vowed then, that when the time was right, I would endeavour to train as a celebrant and hopefully, provide funerals that would be more relevant and meaningful than those of my very dear friends.
Following a big life change and move to Lincolnshire in 2000, the time felt right and so I did train and  I became a celebrant, initially of funerals and later, of marriages and birth. I knew straightaway that I had found something I loved and wanted to do, to the very best of my ability for as long as I possibly could. After 17 years, I still get a real buzz of excitement before each ceremony and a great thrill afterwards, knowing it all went so well!
There are some who say, "Oh I don't know how you can do that"(referring to funerals), but after working as a registered nurse all my life (I recently retired), my working life has been all about being beside people in all the challenging situations we experience during a 'normal' lifetime, beginning with birth and moving through wellbeing and ill health, both mental and physical, acute and chronic and of course, terminal illness. Nurses are very used to having conversations about life, death and dying and everything in between, and as a celebrant, I feel so very privileged to still be in a position to help people through some of the very worst days of their lives, as well as those days that most definitely rank among the very best.