Maria Thorne  Humanist Celebrant in Devon, Cornwall, Somerset and Dorset.
Congratulations! You're no doubt here because you're celebrating an exciting, new milestone in your life, or the life of your family. Whether it's a wedding, a vow renewal, a naming day or another special turning point in your life, I'd love to help you make your day extra-special.
I'm a celebrant, based in beautiful Devon, where I live with my husband, two small children and a dog called Ziggy. But I don't only work in Devon, I'm happy to travel across most of the south west.
Got lots of ideas? We'll work together to create a unique ceremony, which you can make as traditional, informal, fun or creative as you like.
Don't know where to begin? I've got plenty of experience to help guide you through everything. No two ceremonies are the same. There are no 'set words' or 'order of service' and I can always help by making suggestions about things like readings, promises, music and symbolic acts.
"The ceremony was absolutely perfect, exactly what we hoped for: special, personalised and Maria was fantastic and well liked by all our guests."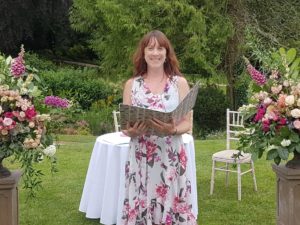 My ceremonies are often inspired by the natural world, but can be on any theme you wish. Being a musician (I direct a community choir and play in both rock and folk bands), I'm always up for using music in ceremonies and can even lead a sing-a-long if you like!
Ceremonies are ideal for bringing together all your family and friends. No matter what your family circumstances, everyone is welcome at a humanist ceremony.
"You felt so much like a wonderful friend that we wished you could have stayed the entire day. Thank you so much for everything."
I look forward to meeting you. I cover most of Devon and Somerset, but I'm often happy to travel further. Drop me a line to find out more.
"From the moment we met Maria she really put us at ease and explained thoroughly how a humanist ceremony worked."
Get in touch: maria.thorne@humanistceremonies.org.uk, call 07341 953442 or find me on Facebook or Instagram.
Not sure what it's all about? Watch this video to find out more:
Find out more about Weddings
Find out more about Namings
Find out more about Other Ceremonies
Find out more about my Pricing
And, finally, meet my dog!