Humanist Non-Religious Weddings and Partnerships in Devon, Cornwall, Somerset and Dorset.
"She did an absolutely amazing job. Maria took the time to understand exactly how we wanted our ceremony to be and then liaised with us to ensure that it was crafted to perfection."
One thing many couples find invaluable is the time we spend together before the ceremony. I'll spend time getting to know you before writing a script that reflects you as a couple. I'm a bit obsessive about attention to detail, so you can feel confident that the ceremony will go as smoothly as possible.
Your ceremony will likely go by in a flash, so I'll do my utmost to make sure you're able to relax and enjoy it!
I'll use beautiful words to tell your story. What does your partner mean to you? Why are you choosing to get married? How do you see your future together?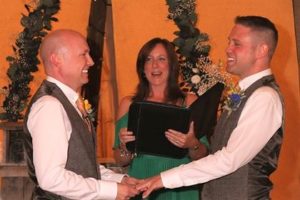 Above all, the process of putting together a wedding ceremony should be fun! Humanist ceremonies are really flexible. The sky's the limit. I can provide plenty of suggestions for appropriate readings, music, symbolic acts and even your vows. I can help with ideas for involving your guests, special friends, children or other members of the family.
"Maria presented a unique and beautiful ceremony, with exactly the right quirks! Her delivery was impeccable and made it unforgettable."
You can have a 'traditional'-style ceremony, or something completely different. It's entirely your choice. I'll make sure your ceremony is sincere, even if you decide not to make it serious. There's a suggested outline on this page but there's no set template, so just let me know what you have in mind.
Humanist ceremonies aren't limited to licensed venues. This opens up a whole new world of possibilities, especially in the great outdoors. How about Dartmoor, a beach, in woodland, or even your own back garden?
"Maria was very warm and genuine, she did an excellent job of summarising our relationship."
I can't wait to meet you. Marriage is a big adventure and it starts right here!
Download my Humanist Wedding Guide (pdf) to print off and read all this info offline.
Read the Humanist Ceremonies Wedding Blog for lots of wedding inspiration, couples' stories and more info.
More Testimonials:
"You know it's a good wedding ceremony when people tell you that they want to get married again just to have Maria there! It was really important for us to have a bespoke ceremony that celebrated us and our relationship and that's exactly what we got. Maria was wonderful throughout the entire process. We met twice before the ceremony and we just felt like she "got us". When we received the scripted plan for the day we knew that we had made the best decision to have Maria as our celebrant.
The ceremony set everyone up for a day of fun, love and laughter and we will always be grateful that we chose Maria.
Humanist ceremonies are so special and Maria made our day complete. You felt so much like a wonderful friend that we wished you could have stayed the entire day. Thank you so much for everything".
"Our wedding ceremony was absolutely perfect! We couldn't have asked for anything better. It has been a real privilege to have you as our celebrant and we will definitely write you a review to recommend you to others! We had so many compliments on the ceremony, saying how wonderful it was. It had people laughing and crying! We know it just wouldn't have been the same without you, so thank you so so much for being such a big part of our day". 
"Thank you so much for leading our renewal of vows ceremony for our family. It was more than we could have expected and pulled everything together beautifully! Thank you very much for the support along the way and guidance. You are a natural talent in bringing it all together, we feel lucky to have found you!"
"Maria was the celebrant for our wedding a few weeks ago. We absolutely loved working with her throughout the process and she was so helpful and clear when we were trying to figure out how to make the event Covid-safe. She did just the most fantastic job – the script she wrote was beautiful and super personal and she took so much time over it. She delivered the service with huge warmth, good humour and calm confidence – lots of our guests had never been to a humanist ceremony before and were so impressed with Maria and the service she'd created for us. We couldn't recommend her enough!"
"I just wanted to say a HUGE thank you again for yesterday! It was a perfect ceremony and we had such wonderful feedback about how great you were and people were raving about the whole ceremony all day!"
"Thank you so much for everything you did. So many of our guests have made a point of telling us (both on the day and in the weeks following the wedding) that they loved your beautiful ceremony. In particular, as you got to know us so well, people have said that the ceremony felt authentic and unique to us. It was so special for Tom and I and we both look back with such cherished memories on all parts of the day but in particular our ceremony.  We took the copy of the ceremony you kindly gave us on our honeymoon to relive the day and remind us of the special and unpredictable moments!" 
"Wow, thank you SO MUCH Maria, lovely pictures of a lovely day yesterday. You truly helped to uplift the whole ceremony. We and our guests truly loved it! You are an amazing celebrant".
"Thank you for doing such a fantastic job being our celebrant,  we thought you were great! We had some fantastic feedback from friends and family as well. A few people who'd never been to been to a humanist ceremony before were really impressed how personal and meaningful the service was".
"Maria took the time to get to know us and make our ceremony incredibly detailed around our story and our journey. As a couple we were incredibly busy in the run up to the wedding organising everything and Maria was flexible and supportive of our need for more time, we were still making changes to our ceremony the week of the wedding and Maria helped with this. On the day, the ceremony was absolutely perfect, exactly what we hoped for: special, personalised and Maria was fantastic and well liked by all our guests. We received great feedback from family and friends, huge thank you Maria for everything". 
"First and foremost we wanted to say a huge thank you for our beautiful ceremony later week. It was perfect in every way and so moving that I think we have inspired a few couples to renew their vows just so they can have a humanist ceremony!"
More info:
HAVING TO RE-BOOK YOUR WEDDING BECAUSE OF CORONAVIRUS? Take a look at my blog.
Is a humanist wedding for you? Read the Humanists UK page to find out.
Download the Humanists UK Weddings Leaflet.
Not sure what you can have? Here are some FAQs.