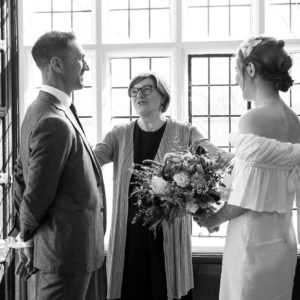 'It was the ceremony of our dreams! Pip did such a great job of making us feel relaxed from our initial meeting to the discussion about our relationship and on the day itself. All our guests said how well she managed to capture the spirit our relationship. It was perfect'. Zoe and James
Each humanist wedding is unique and is designed around your personal interests and values. They are all different, they can be serious, light-hearted, romantic…it's entirely up to you.
A humanist wedding is also special because it can take place wherever you want, inside, outside, by the sea, in a field, in a beautiful building…the choice is yours.
I offer a personal service, which usually starts with an initial no obligation meeting so that you can decide if I am the right person for your ceremony. My fee includes all meetings, drafting and writing the script, a rehearsal and of course the delivery of the ceremony itself.
If you decide to go ahead we will have further meetings and begin to create a ceremony in which you get to say exactly what you want, in the way you want to. You can include music, readings, poems or symbolic actions. Exchanging rings is the most traditional symbolic act, but there are others, such as hand fasting or drinking from a shared cup.
'Pip is hands down one of the loveliest people we've ever met, to a point now that we're sad knowing we probably won't see her as much! The ceremony was beautifully personalised, we've had so many comments (even from my mum who's quite conservative when it comes to weddings!) about how lovely it was from start to end. We couldn't have wished for anyone better to marry us.'
If you would like to get in touch for a chat, please feel free to call me on 07912361194 or email me at pip.mccormack@humanistceremonies.org.uk
I look forward to hearing from you.
Photo above: Huckleberry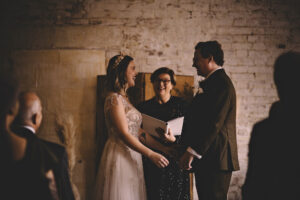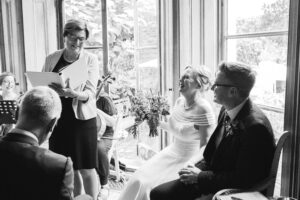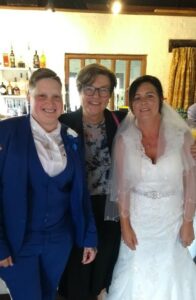 B and W Photo Francis Carlisle