Hello, congratulations on your engagement and thank you for landing on my website! My name's Rachael Meyer. I'm a humanist wedding and funeral celebrant in Harrogate and the Yorkshire Dales – and this is my weddings page! I specialise in writing and conducting non-religious, unique, romantic, relaxed and fun wedding ceremonies in Leeds, York, Harrogate areas, across North Yorkshire, The Yorkshire Dales and West Yorkshire.
As a professional writer for many years, I specialise in writing thoughtful, creative scripts and work with all couples to deliver totally bespoke, heartfelt, relaxed and uplifting wedding ceremonies that tell your story, feature your thoughts on love and marriage, include your music, personal and meaningful vows, a little humour and your choice of symbolic acts – without the constraints of religion or civil ceremonies.
If you are looking for an alternative wedding ceremony that oozes creativity, romance, fun and personality but with a traditional foundation, you're in the right hands! If you want a wedding ceremony written and delivered your way, with none of the rules and regulations of a civil ceremony but with exactly the right balance of informality, fun, emotion and formality, you're in the right place! Let's rip up the rule book and add some colour!
To check out what you can expect from a typical ceremony – together with some of my favourite readings, sample vows and ideas for music and symbolic acts, please click through to my FULL WEBSITE here.
"We cannot thank Rachael enough for all of the hard work that she put into our wedding, both in the weeks and months leading up to the date, and especially on the day. Having Rachael lead our personal ceremony was an incredible honor. The script that she wrote for us was personal, moving, hilarious, and perfectly encapsulated our story and feelings for each other." – Steve and Alba, 2020. 
How does it work?
We meet and chat through ideas, I write your script, you give it a read and apply any tweaks.
I provide a "contact me any time" service to chat through anything to do with your ceremony.
I conduct a beautiful ceremony that surprises and delights your guests, gives you a warm buzz and gets your party started.
You keep a presentation script and a whole load of amazing memories!
Easy and totally stress-free!
See my FULL WEBSITE for ideas, readings, music, vows, symbolic acts, fees, answers to FAQs, reviews, blogs and other stuff!
About You:
Whether you're getting married for the first, second or third time, whether you have an extended family or friends (or dogs) you want to involve; whether you're humanists or not, whether your families are of different religions or cultures, or one of you is religious and the other doesn't want a church wedding; whether your a bride and groom, two brides or two grooms, or whether you just want to have an amazing wedding ceremony in the venue of your choice, I have a 'can do' attitude and a bagful of enthusiasm and positivit
Inclusivity: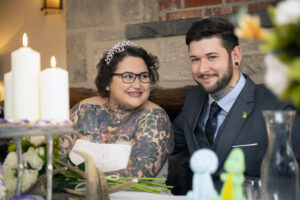 A humanist wedding ceremony is perfect for EVERYONE wanting a highly personalised, warm, inclusive, meaningful and extraordinary wedding ceremony. I focus on delivering love-centric ceremonies that consider all others' beliefs and situations and are meaningful to all guests. I often honour visual, meaningful,  non-religious wedding traditions and symbolic acts and include them in my ceremonies – and I enjoy working with couples to create new ones. I'm open to anything, so just ask!
I thoroughly enjoy meeting all couples and hearing their stories of love and life, and I relish the challenge of crafting a completely unique script for every wedding. Every couple is different. Every wedding is completely bespoke.
Not just a wedding script
I have plenty of experience in planning and delivering ceremonies and other live events, and I can advise on every element of your ceremony. For couples planning an outdoor, barn, festival, woodland, beach or tipi wedding, or who need amplification of voice and music indoors, I have a fabulous, completely portable, professional PA system with microphones and 7 input channels. It's perfect for use in a field, barn or a garden without power). And it's included within my fee! I also have a few props (eg unity candlesticks, handfasting ribbons, an oath stone and a loving cup) that are available for my couples to borrow.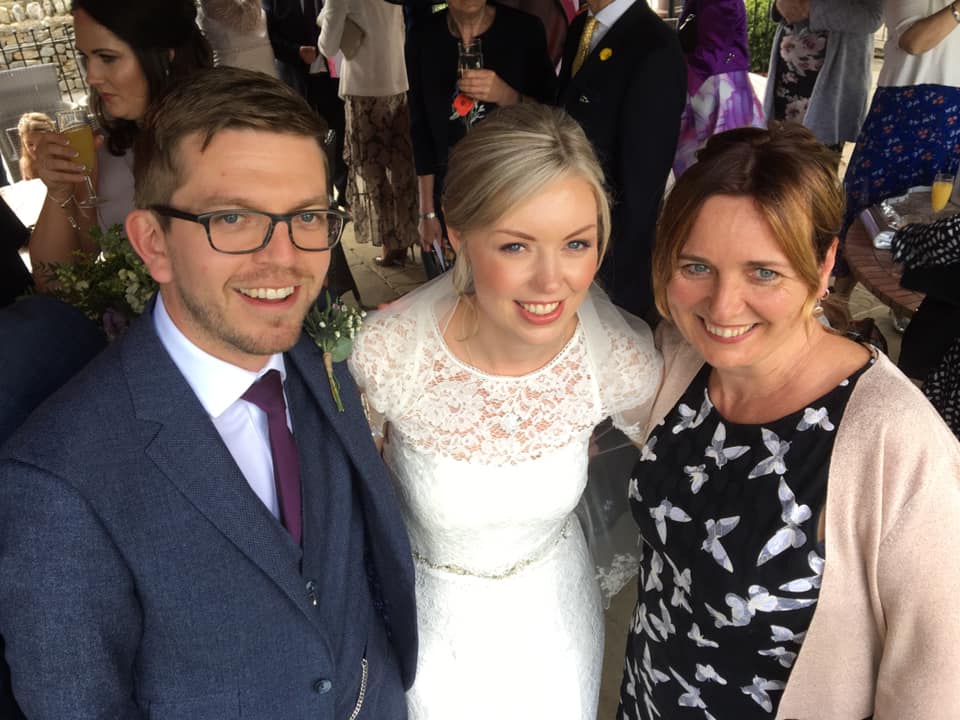 Almost nothing phases me! I have been known to be commissioned to write and deliver a full wedding ceremony with 24 hours notice – nothing is impossible and I am happy to attempt to rise to all challenges!
Above all, I feel absolutely privileged to be a wedding celebrant. It's such a happy role that involves being allowed into the very heart of a couple's lives for a small window – and results in a wedding day experience that they – and I – will remember forever.
Although most of my weddings are in beautiful Yorkshire; on request, I will also travel much further afield and overseas.
Click here to see my updates and ideas and to join the party on Instagram and Facebook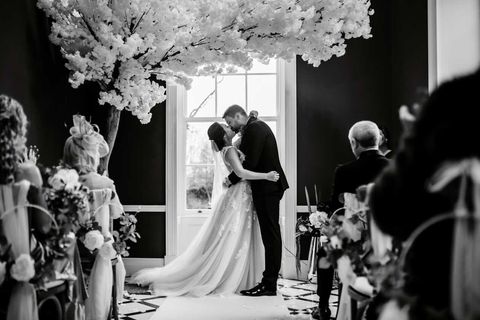 I was a national finalist in the Best Celebrant Category, at the 2020 UK Wedding Awards (I'm super proud about this!). I'm also delighted that Humanists UK has published one of my blogs on inclusivity, The Celebrant Directory has published a blog of mine about music at weddings, the photos for one of my same sex weddings was used on a billboard in Ireland and one of my weddings was chosen for a double page spread in the 2020 annual edition of Yorkshire Bride Magazine.
Thanks to Sira Studio, Ben Jenkins and Beth Alderson and my lovely couples for use of their images.
Get in Touch!
Please call or email me any time for a very informal chat.
Read what people say about me here:  RACHAEL MEYER REVIEWS