"Steph was phenomenal. From the moment we met her we knew we had found the right person for us. During the 'interview' process it felt like we were making a friend, she completely got us, asked just the right questions and really listened to our answers. She came all the way to the bride's parents' house the weekend before the wedding and spent time with us as a family, running through the ceremony several times so that we all felt really comfortable and knew just what to do. On the day itself she was an absolute superstar – we had so many people raving to us about how special, personal, funny, moving and unique our ceremony was. We feel exactly the same – it was the highlight of our day, and we feel exceptionally lucky to have met Steph.  We're so grateful to her for playing such a significant role in our day and we cannot recommend working with her enough." P & T
P & T's wedding was featured on lovemydress.net
"Our friends and family have all said how much they enjoyed the service and lots of people who haven't been to humanist services have said they wished they'd had one. 
Overall the whole day was perfect for us and you were a big part of that, it's a shame so many of our friends are already married or we'd definitely be recommending you!" K & A
"Thank you, thank you, thank you. It was perfect. You made our wedding into what we had always wanted it to be – the ceremony was so personal, detailed and reflective of who we are as individuals and a couple and that is all down to you. You took the time to get to know us and our stories and thus it was reflected in your words – it was the personalised ceremony that we wanted. The time you took to translate your words into French was really appreciated and I'm told that your pronunciation was word perfect. It meant a lot to [C] that his Mamee was able to understand some of the ceremony, so thank you.  [F]riends have said that it was the most personal wedding that they have ever attended and that it was perfect" K & C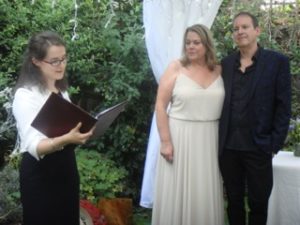 "THANKS so much – you helped make it such a WONDERFUL day.  

Everything turned out so well, and the ceremony was PERFECT – so touching and it sure pushed a button with all the family.  

Even my hard as a rock Brother shed an emotional tear! – MUCH to his wife's surprise!  

As everyone told us – YOU were the perfect choice and we are so lucky to have found you." 
P & J
"Stephanie was wonderful to work with from start to finish. She was warm and friendly and brought a lovely sense of humour to our interactions. She made us and our families feel at ease in the lead up to the wedding and on the day. She was happy to incorporate a handfasting, she researched options for the ceremony and rehearsed with us until we were comfortable. We were very happy we chose Stephanie to be our celebrant and would highly recommend her to anyone planning a humanist ceremony." R & R
"It was such a perfect wedding day for us – we are still talking about it!  Thank you for making it such a special and smooth service. Everyone has commented on how personal it was and how well it was conducted." L & B
"I just wanted to say a personal thank you from myself and [my partner] for such a wonderful ceremony, everyone loved it" L & B family
L & B's wedding was featured on Rock My Wedding.
"We really like the script and think you have understood us perfectly!"  A & D
"Thank you so much for directing our ceremony.  It went very well and everyone was very happy so thank you for everything!" K & A – a bilingual French/English wedding
"A week ago we were about to make our commitment to one another! We really want to thank you for a stupendous ceremony – it surpassed our expectations, and will stay with us forever.  And a heartfelt thank you again. You were wonderful in the chaos!" S & H
To get in touch, please email stephanie.celebrant@gmail.com.