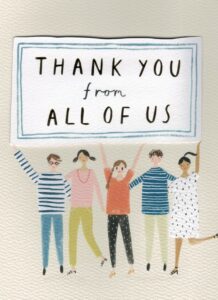 ---
"Hi Steve, I just wanted to say a huge thank you for yesterday.  The service was beautiful and you took all the worry and anxiety away from us to ensure the smooth running of Mum's funeral.
Dealing with you has been a pleasure, you have a wonderful way of blending reverence and respect with just the right amount of humour.
Thank you so much, we have received so many lovely comments from people who attended.
Kind regards, KN (Harrogate)"
---
"Hi Steve
I just wanted to say thanks again for such a heart- warming and inspirational service. There were so many lovely comments after it, as well as interest in the humanist elements. It was everything that mum wanted.
Kind Regards, SF (York)"
---
Steve,
Thank you very much indeed for this afternoon's service.  We were so pleased with how you brought it all together and J's family commented on how it reflected her life and beliefs. We are grateful that you were able to help us at such a difficult time. Again, many thanks.
JS (York)
---
"I just wanted to express sincere thanks and gratitude for your ceremony yesterday. Everybody …. yes, everybody, commented on the empathy and tone of the reading, capturing quite beautifully the comments, fond memories and remembrances of S. You delivered it beautifully, Steve. And we thank you."
MH, Barnsley
---
"A very heartfelt thank you for today. You did a lovely service and we are so grateful. My Dad was very moved by your words and we found it very comforting. You provide a much needed service and despite all the restrictions it felt personal to my Mum. Thank you again and best wishes  for the future."
HP, London
---
"Thank you so much for the lovely service yesterday.  It was very moving."
JD, York
---
Hi Steve, my Father, family and I would like to say a big thank you. The speech you gave was very fitting and exactly what my mum wished for. I would definitely recommend you to anyone.
Thanks again. PC (Scarborough)
---
"Thanks for the past week or so! Crazy times but you helped a lot!"
RT, Bridlington
---
"Just wanted to thank you for Dad's service yesterday, everything went very smoothly and conducted with total professionalism, thank you again."
LJ, Scarborough
---
"I though I'd let you know I've had lots of lovely comments about Mum's service yesterday. So this is to say a big thank you for everything – I couldn't have done it without you."
VE, Hull
---
"Thank you for the lovely service you held for my mum. It was amazing; I hung on to every word you said. Mum would have been very happy with her story you told. It appealed to all beliefs and religions and it made my dad very happy also. Thanks again!"
SK, York
---
"A very big thank-you to you for a wonderful service you gave for my husband G – and C's dad (of course). It was unbelievable the amount of people who attended, many of whom commented on the service you delivered. I think G would have approved. We have and will recommend you as much as we can. Your kindness, consideration, professionalism and everything you have done for us on the day will not be forgotten. At a very sad time for me and my family you were a great comfort when we needed it most. With many, many thanks…"
SF, York
---
"I would like to thank you for a beautiful service, all my friends and neighbours were very impressed as they had not been to a humanist service before, and said you had done T down to a…T! The music and readings were very appropriate and the reading about the ghost had S laughing. It was just what we all wanted and we had quite a few chuckles on the way."
ED, York
---
"Thank you so much for all your hard work putting together such a moving and fitting tribute to our brother J. We bombarded you with such a lot of information it is a wonder you made any sense from it all let alone come up with the beautiful verses and words which were so moving.
Thank you for your patience and understanding with my constant changes and additions or deletions. It certainly made us feel you were there for us as well as celebrating J's life.
We had great feedback from our friends and family and we would not hesitate in recommending you to others. You are certainly the correct person and in the right job."
MR, Bridlington
---
"Thank you doesn't appear to be enough to thank you for the beautiful service you did for my darling husband. So peacefully dealt with."
MP, Bridlington
---
"Many thanks for the service you delivered for RL in January. Though you hadn't met R you captured his story and the man he was perfectly. Many of those who attended commented on what a wonderful service it was. You made the day so much easier for me and my sons."
ML, York
---
"I just wanted to thank you again for the fantastic job you did yesterday. The feedback was that it was one of the nicest funerals people had been to.  You made a very sad day turn into something that will always be remembered as a happy occasion."
CW, Milton Keynes
---
"Steve – what a gem to humanism. A real pleasure to meet at a difficult time. It helped that my J read Terry Pratchett books."
S, Selby
---
"We would like to give you feedback for your web site so that others seeking a professional Humanist Celebrant will be able to see first hand that your professionalism and caring nature made the whole process an easy one for us.  From our first conversation, we were made to feel at ease and realised that nothing was too much trouble for you.  You captured the life of our loved one perfectly and the tribute you gave was absolutely spot on.  After the service, we had people asking for your details as they too want to ensure that they or their loved ones have a similar experience.  We even had a comment from someone who always thought they wanted a religious service, say that your service far exceeded what they believed a Humanist service was, and as a result of attending our service, they have now changed their mind and will, when the time comes, be having a humanist service, hopefully conducted by you ! Many thanks once again, we were delighted with the service, and would definitely recommend you 100% ."
The Hitchen Family, Leeds.
---
"If ever a person was perfect for his job it is Steve Emmett. A wonderful, warm and understanding man whose presence on the phone and in person was both reassuring and comforting. Can't recommend him enough!
SS, Bridlington"
---
"We just wanted to tell you again how much we loved the ceremony you wrote and delivered for us. It really was the perfect ceremony for us – personal, sincere and beautifully delivered. We are so glad we found you and made the decision to prioritise the ceremony part of the day. It has been a real pleasure to take this journey with you from the very start and you've helped make us really think about who we are and what is important to us. Thank you so much for all your time, wisdom, sense and direction throughout the process.
JN, Pontefract"
---
Dear Steve,
I am writing to thank you for the most beautiful service you gave in respect and honour of RO my dear friend. I am so pleased that R had the service she wanted, and, I'm happy to know that she had read about you and seen your photo as I had taken her the information I printed off.
I want to thank you for supporting me re my speech. I truly did not think I would have the courage to stand up in front of everyone, but with your encouragement I did it, and am so happy I did, despite falling off the podium afterwards. I had to laugh at that later on at home with my partner.
Once again thank you very much for everything. You made the day very special in R's memory.
VR, Beverley
---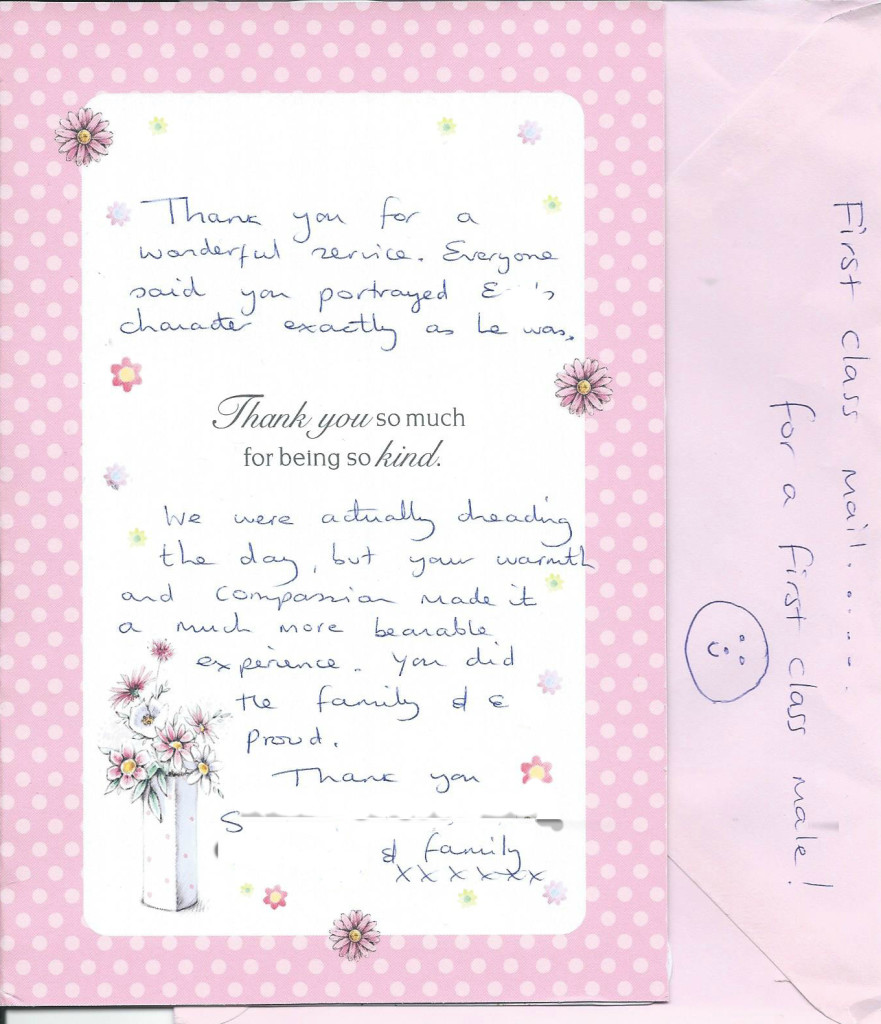 ---
It is only now that I get around to thanking you for your excellent work. All of C's friends and relatives present at the service thought you gave a brilliant speech and would like to extend their gratitude.
NP – Germany
---
This is just a note to express my thanks for your organising and skills as compere for the Celebration of David Nobbs' Life. I believe your work was appreciated by everyone, and I wish you happiness and success in all your doings.
AL, Gloucester
---
I just wanted to say thank you once again. The service on Friday was exactly how I imagined it would be. You made it very personal and captured J perfectly. Thank you and take care.
AQ, Selby
---
Thank you so much. A few of our family are regular church-goers and they loved the service. So credit to you. Thanks again.
LE, York
---
I would like to add my 100% positive feedback for your web site so that others seeking a professional Humanist Funeral Celebrant will be reassured that no request is too trivial or too much trouble for you. We appreciated your availability, guidance, management of the difficult funeral director, supportive approach and attention to detail in planning for the celebration of our mother's life which far exceeded my expectations. My mother would have been delighted with her funeral and described it as perfect.
With many thanks
Jan, London
---
Thank you for a fantastic service for my brother. As sad as it was for me and mother and brothers, it is one of the best funeral services I have been to (and I live in Ireland – it's a pastime there!). Thank you,
AC, Cork
---
I am emailing you to say a heartfelt Thank You for officiating at my brother's Humanist funeral ceremony. I felt that the ceremony was everything that S would have wanted. Dignified, respectful, reassuring and compassionate. S was a positive person whose fulfilment in life was supporting others using his knowledge and experience. As his health declined, S and I had the opportunity to discuss and plan various aspects of his funeral prior to his death so I was able to follow his wishes. I found your advice beforehand about the content and length of the ceremony invaluable. Thank you too for your contacts from first meeting you until the actual day which reassured me that all was going as planned. I felt that your words were warm, sensitive and reassuring for family and friends to hear. Many of his friends told me that they had not been to a humanist service before but were both surprised by ( in a positive way) and, comforted by it. You gave the ceremony a dignified framework around which those who loved him were able to give their more personal tributes. Both N and W's contributions were so emotional. I was delighted too, to hear the rousing uplifting rendition of Jerusalem at the end. S, undoubtedly would have thoroughly enjoyed the ceremony and would have felt humbled and secretly rather pleased too, to see the 120 or so people who took time out of their daily life to come together to remember him.
HB, Huddersfield
---
Thank you so much for the way you conducted the ceremony yesterday. Many people commented on it and said it was the best humanist funeral they had attended.
JC, York
---
Hi Steve,
I am sending you this message of thanks for the beautiful celebration of K's life on the 15th October. I could hear K speaking all you spoke about as if she were just saying them on the day.
You gave such a beautiful address spoken with sincerity that I and fellow members of K's friends and family were deeply touched and helped us through this difficult time.
Thank you also for the copies of the ceremony.
LE, Leeds
---
Hello Steve
Thank you so much on behalf of my family and me for the lovely service you put together for our Mum. It wasn't an event any of us was looking forward to as you can imagine, but we all agreed it was very appropriate and would have been just what she would have chosen. We felt it was a fitting tribute and celebration of her life rather than a mourning of her death.
CC, Driffield
---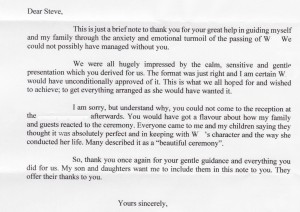 ---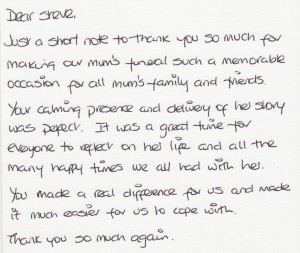 ---
Dear Steve,
With many thanks for a wonderful service. So many people have commented on how moving it was, and so personal. A friend of mine said she really got to know my mother better through the service. Praise indeed!
Every good wish from all the family.
VE, York
---
Dear Steve,
This is just a quick note to place on record my thanks for your kind attention to our needs over the past few days and the lovely tributes to my mother that you delivered during the funeral service. I have received only positive comments on the service from our family members and friends, some of whom had never attended a humanist (and somewhat jovial) service before. My relations in Australia were able to see the whole of the service and my aunt has commented on how wonderful the service was.
JV, North Yorkshire
---
Dear Steve,
I know we spoke on the day but I cannot thank you enough for the way you portrayed D. All the family said that what you said about him was absolutely spot on. All were so happy with the service. So not just from myself but from the whole family thanks once again.
IM, Hull
---
Dear Steve
Thank you for everything you have done for us. Thank you so much. It's much appreciated!
Family E,  North Yorkshire
---
Dear Steve,
Many thanks for the hard copy of the service and the CD of the music.   The pdf is appreciated also and I shall email this round to everyone. We are all very grateful to you for the service and think everyone agreed it was a very fitting and appropriate service for Dad and we think he would have approved. You have been very professional throughout and it was a pleasure to meet you.  I wish you all the best for the future and thanks again.
MT, Sussex
---
I just wanted to send a quick thank you for the service you held for MH yesterday. You played a big part in making the day one to remember, for all the right reasons. We'll all miss her but she had a great send off.
AG, North Yorkshire
---
Just talking with Dad and he was thrilled with the way you conducted the service today. Everyone had nothing but praise for you. Once again, thank you!
GD, North Yorkshire
---