I conduct non-religious and humanist funerals, memorial services and interments of ashes for those seeking a deeply personal service that is dignified, relevant and meaningful.
I will work closely with you. If you wish to be involved in the preparation of the funeral script than you can be – many people find the process of carrying out research and writing down memories and anecdotes, comforting and helpful. But where you don't feel able to talk about your loss, I can provide the words. I am here to help you mark and celebrate a person's life, and I will do so with the utmost care and respect.
I cover Surrey and Sussex.
I work regularly at Clandon Natural Burial Reserve, Randalls Park Crematorium in Leatherhead, the Surrey and Sussex Crematorium in Crawley, Guildford Crematorium and Dorking Cemetery.
Please feel free to contact me directly by phone or email. Alternatively your funeral director can contact me.
Testimonials
 "You did an outstanding job. We were so lucky to have had benefit of your calm advice and suggestions, ongoing availability and prompt attention during the preparations and clear, confident delivery on the day. And you have given us a nicely produced transcript of the ceremony which will be our treasured record of a very special day. It is exactly what we had hoped for."
"Thank you for your lovely delivery during the service. I felt that whilst we have only met with you for a matter of hours your tone of voice and approach to the service would have very much pleased my Grandfather."
"Thank you for your support both before my father's funeral and on the day. Your calm, kind presence was a huge comfort to us all. You worked so hard for us and seemed to get us from the start despite meeting us in the worse of circumstances. You did a perfect job and we are so grateful."
"My sincerest thanks for the truly wonderful service you gave Dad. It was done perfectly just in the way we wanted. Many people commented on the way you handled the ceremony and you really helped enormously in making such a sad day bearable."
"We can't thank you enough for the sympathetic, kind way you took the funeral, and for the time you spent listening to our memories and thoughts. I am so glad we found you."
"You delivered such inspiring and comforting words at the end of the ceremony and they meant so much to everyone there. We were very fortunate to have had you for the day."
 "People of all denominations said it was the loveliest funeral they had ever been to. What more could we have asked for? Thank you for helping us to make it possible."
"You were so calming. You just enhanced the whole ceremony."
"Many, many thanks for helping us give Mum the send-off we so wanted for her. It was just perfect and we wouldn't have changed one part of a beautiful ceremony."
"The lyrics from the Pet Shop boys came to mind: The perfect 10. Thank you so much for the extremely lovely way you presided over the celebration of mum's life and for carrying out all our wishes."
"You delivered the tributes with such tenderness and warmth and captured the amazing wife, mother and friend that she was. We know that you worked up until late the night before making sure you had everything correct. And your kindly guidance to all of us on how the order of service would work best was so helpful."
"Thank you for your calm presence during this harrowing time."
"Thank you so much for your help and support in creating such a wonderful ceremony. Everyone said how perfect it was, setting just the right tone. We now have to get used to not having him in our lives, but yesterday was a great testament to how much people thought of him, and this makes us feel proud that he was a part of our lives."
"Thank you for all you did at Dad's funeral. You wrote and conducted a wonderful service which dad would have been thrilled with. You put us all at ease but most of all you helped me immensely by being so professional."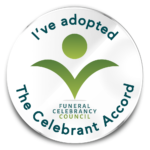 The Funeral Celebrant Accord defines the attributes and skills required of an excellent funeral celebrant and is intended to set the standards by which all celebrants offering funeral services should be measured.