I conduct wedding ceremonies for people who don't wish to be restricted by church or civil marriage laws governing their marriage ceremony. They are especially right for couples who want their wedding to be intensely personal.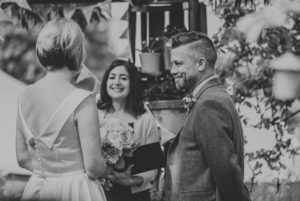 What is a humanist wedding?
A humanist wedding is a non-religious marriage ceremony. We are campaigning very hard for a change in the law but, for now, the legalities that ensure a couple are actually married must still take place at a register office. The humanist ceremony can be treated as the true wedding day in every other sense. This is when a couple celebrate their love, unity and commitment in the setting and amongst the people that are of most importance to them.
What kind of ceremony can I have?
A humanist wedding can take place in almost any location, daytime or evening, indoors or outdoors, and can be beautifully traditional or stunningly unique. The ceremony reflects your personalities and beliefs in every detail and therefore no two ceremonies are the same.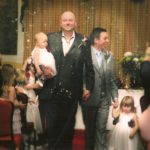 Is a humanist wedding right for me?
Yes, it will be! Humanism recognises only our shared humanity. In the context of love and commitment, nothing else matters – not race, culture, nationality,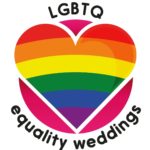 religion, gender identity or sexual orientation. Love is love.
What do you charge?
I recognise that weddings are an expensive business and that costs can spiral. I try to keep my fee in line with that charged by Surrey registrars. You may find I cost more or less than other people. My fee reflects my training, my professional accreditation, the many hours that go into creating a script and spending time working with you and talking with you, and a rehearsal. My fee is slightly dictated by mileage to your venue, so for an accurate quote please tell me where and when the wedding will be. But to help with budgeting, a ceremony within a reasonable distance of me, wouldn't be more than £650.