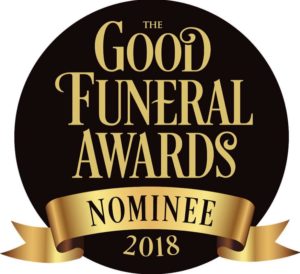 Some Funeral and Memorial ceremony feedback received over the past few years:
"Thank you Jane for the wonderful way in which you conducted Margaret's service. You have a unique way of dealing with grief. Everyone present was full of praise for you. You made the most unbearable day of my life pass without too much pain – that was quite an achievement." Margaret's Funeral 
"At the wake afterwards, everyone said how much they welcomed the change from a conventional religious service. We all very much appreciated the sensitive, dignified and respectful way in which you conducted the service." Victor's Funeral
"Thanking you from the bottom of my heart for Dougie's ceremony on Monday.
You gave him a truly brilliant send off and he would have loved you – fun, human and extremely thorough in summing him up as a person. So pleased you were there for us! The family and friends all said it was one of the best services they had been honoured to attend. Thank You So Much." Dougie's Funeral
"Thank you so very much for the beautiful send off you wrote and delivered for my nan, Olive. I knew as soon as I found you on-line you'd be the right person for the job and I honestly cannot think of a more fitting tribute to our lovely Nan. You were an absolute pleasure to work and communicate with; a true professional who clearly understands her role and clients' needs. At a time of difficulty and sadness, you made the process so much easier. Thank you for everything." Olive's Funeral
"On behalf of my brother and I, we wanted to thank you Jane, for yesterday. All those that attended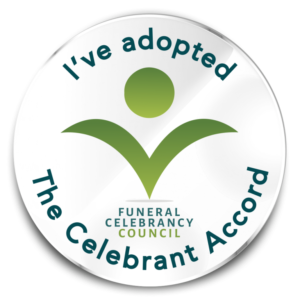 commented on how fitting the service was for our father, and commented specifically on the way the service was conducted. We have very much appreciated your guidance and empathy in what has been a surreal few weeks for both of us."
Leslie's Funeral
"We feel the service was very personal and memorable for all the right reasons. It was a hard day but made easier for us by your caring attention to detail. We are very grateful to you for helping us to say a special goodbye to a very special Dad and in the way that we know he would've hoped for. So thank you." Michael's Funeral 
"Many of my friends told me how beautiful they thought the ceremony was . . . Thank you for making it so special. One friend who is deeply religious asked me to let you know how lovely she thought it was." John's Funeral 
"A huge thank you for the wonderful celebration and farewell for Dad. We received so many positive comments. Mum said she thought Dad would have loved it. You managed to turn the funeral from something that I was dreading into a true celebration that I can honestly say I enjoyed. I can't tell you how reassuring it was knowing we were in your safe hands." David's Funeral 
"I wanted to send mine and my family's thanks for the wonderful service you conducted for my lovely Dad.It was so filled with warmth and what a wonderful sense you got of him . . . We had some amazing comments afterwards, especially regarding your empathy." Roger's Funeral
"I cannot tell you how much I appreciate the work you put into the ceremony . . . The family were amazed, surprised and so grateful to you. . . I don't know if you noticed but we were smiling at you even through the tears." Barry's Funeral 
"We knew we were in safe hands from the moment we met and our confidence was well placed . . . what a great farewell it was for Claudia. We were so glad we had you to guide us. We won't forget you and your kind support." Claudia's Funeral 
"Thank you from the bottom of my heart for the lovely service for Pete . . . You made it just as he would have loved." Pete's Funeral 
"It's very rare that I see pe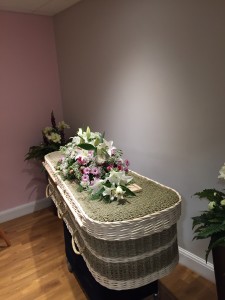 ople approaching the officiant after the service and commending them in the manner that I have seen after all of your services so far.It's a pleasure to work with you, you are always very professional and approachable. I look forward to working with you in the future." Funeral Director contact 
"Thank you so much for everything you did for us and Mum. Your tact and insights  helped us through a difficult time and everyone has commented on the way you were able to summarise Mum's long life and many relationships with such understanding and warmth." Mavis' Funeral 
"It was a truly lovely service and I could not have wished for a more personal tribute to him." Tony's Funeral 
"Thank you so very much for leading the celebration of my uncle's life so beautifully . . . For many of the congregation it was a first Humanist ceremony and afterwards there were comments such as "The nicest funeral I have been to." From our first contact with you, we have been grateful for your good advice . . . It was a thoughtful and comforting service and your closing words were inspirational . . . Thank you very much indeed for making it an unforgettable occasion . . . " Kenneth's Funeral 
"A Big, Big Thank You Jane for the wonderful service you put together for our mum – you made it very special for us." Trudie's Memorial Service 
"You were terrific . . . professional, caring, articulate, and conducted the ceremony with extraordinary sensitivity – you managed to pick up all the nuances of my dear mother-in-law's character and life . . . it was a real comfort to us to have it done in a way that felt right for Jean and for us." Jean's Funeral 
"Thank you very much for the beautiful service for Dad . . . I think he would've approved of everything." Hugh's Funeral 
"Thank you very much for the professional and empathetic way in which you conducted my uncle 's funeral and for your diligent research into his life. You really captured the essence of what we wanted and the ceremony was perfect." Alan's Funeral 
"Thank you so much for the beautiful service you conducted for Dad. Your presence gave us both the strength to deliver our respective roles in the proceedings. We will never forget the day and we left with good memories, not sadness." Steve's Funeral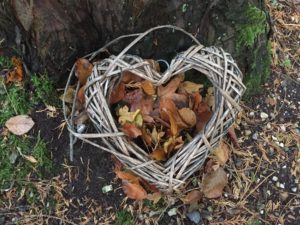 "My family have asked me to pass on their thanks for the empathy and sensitivity so clearly expressed in the conduct of your service. You might have noticed a number of Muslims within the congregation, none of whom had ever before witnessed a Humanist celebration and who were quite staggered by the personalised nature of the ceremony, and full of praise for your delivery. Thank you for the care and attention to detail in your assistance, it was much appreciated." Desmond's Funeral
"Thank you for all you have done for us over the last couple of weeks. You made the service for Dad, a beautiful celebration of his life and most importantly a happy occasion. It was just how Dad would have liked it. I came away feeling like I had been on a really nice day out, if that makes sense. I know it's only coincidence but the buzzards circling above in the beautiful blue sky were a wonderful and fitting ending for me.Thank you again for making the day special." Brian's Funeral
. . . . .
Highly Recommended Independent Funeral Directors with whom I work regularly are: H D Tribe (they have offices in Rustington, Worthing, Littlehampton, Shoreham, Storrington and Lancing) and Reynolds Funeral Service (they have offices in Littlehampton, Bognor and Chichester) – I also work closely with many other excellent local funeral directors and will always happily liaise with whoever you appoint, to ensure everything runs smoothly in the lead up to and on the day of the funeral.
. . . . .