For more information and for frequently asked questions, please go to my dedicated weddings website  http://www.janeblackmanweddings.co.uk
I am a proud founding member of LGBTQ Equality Weddings – LOVE IS LOVE
Recent Thank Yous, Feedback & Reviews . . . .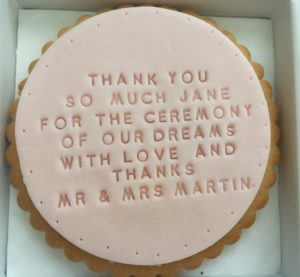 "We just wanted to drop you a note to say a massive thank you for taking our wedding ceremony. It was such an incredible part of the day and more special than we ever could have imagined. Everyone commented on what an amazing, personal, humorous and welcoming ceremony it was. Thank you so much for all your work in advance, for your guidance and delivery of the ceremony, we are both so glad we opted for a Humanist ceremony!" (James & Emma)
"We knew we didn't want a traditional wedding – we didn't want to be confined to one specific room in the beautiful venue we found (we wanted to make the most of the wonderful gardens) and we weren't huge fans of the wording used in a traditional wedding as we found it a bit 'contracty'.
We wanted a wedding that spoke about us and our journey, we wanted it to be personal, we wanted hand fasting, audience participation, laughter and some naughty jokes. We wanted our wedding to be ours, not the same as everyone else. So, we did exactly that with the help of our wonderful humanist celebrant Jane Blackman, who spent months coming up with the perfect celebration for us.
For some people, a civil/religious/any other traditional wedding is perfect, but for a lot of people, it isn't. Our wedding was just as valid and committing as any traditional service." (Becky & Steve)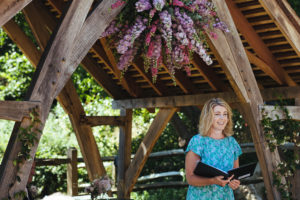 "We had an absolutely amazing day, the best of our lives! It was perfect from start to finish. Literally everyone commented on how special, personal and different the ceremony was, compared to a normal church or civil ceremony! We will certainly be highly recommending your services to anyone looking for a ceremony of any sort." (Tom and Lyndsay)
"We both wanted to thank you so much for the incredibly skillful way you conducted our wedding ceremony. We were so thrilled with how it went. Many of our guests also commented on how good they thought you were in the role and how beautiful the ceremony had been. We loved the way it felt so special but also informal and that was at least partly to do with the way you prepared everyone before hand (including us!). As always, you were so containing and supportive and really helped us through the nerves (and tears!)." (Laura & Claire)
"It was a magical day, and so many people commented on how perfect and thought-provoking the ceremony was . . . And your delivery of the ceremony and of our words was just right. It really was the very best day of our lives. Thank you."  (Emma & David)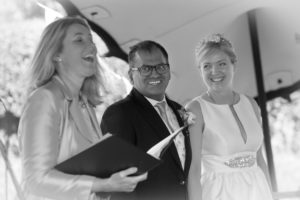 "Massive thanks to you for everything on our wedding day. We had the most fantastic time and you were integral to making it so enjoyable, memorable and personal. We loved every minute. You got several references in the speeches (my dad and the best man mentioned you!) touching on how personal and lovely the ceremony was – my parents loved it. Thank you again for being our celebrant – we had such a great day." (Prem & Catherine)
"Thank you so much for such a wonderful wedding ceremony. It was just perfect! So many people commented on both how warm you were and how personal it was. So thank you for making our day amazing!" (Natalie & Stu)
"A MASSIVE thank you for being part of our special day! You kept us both calm and really made us feel so comfortable during the ceremony… so many of our friends commented on how it was one of the best ceremonies they have witnessed." (Adele & James)
A recent FACEBOOK review . . . "We
 cannot fault Jane's service to us as a celebrant. My husband and I knew we didn't want a religious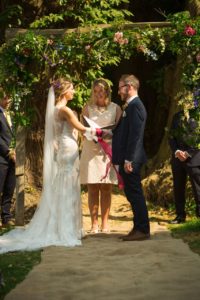 ceremony but were a little skeptical about Humanist ceremonies as we had never been to one. We spoke to a few different celebrants befo
re deciding on Jane. Her professionalism, warmth and genuine love of what she does came across immediately and we knew straight away we wanted her to marry us. From then, we just felt so happy and reassured that the ceremony would be fantastic, and it was! Jane's communication with us was exceptional and the words she wrote for our special day were spot on. I was incredibly nervous but as soon as I saw Jane beaming, standing with my husband to be, I relaxed and enjoyed every second. It was truly magical and the amount of positive feedback we had from our friends and family was huge. So many comments that it was the most touching, personal and most heart-felt ceremony they had ever been to! 
Thank you Jane!" (
Rosie & Andy)
Weddings and Partnerships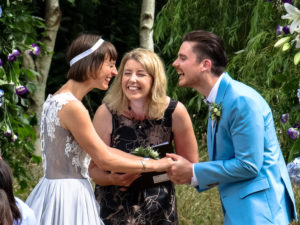 Congratulations on your forthcoming Wedding or Partnership Ceremony!
The beauty of a Humanist or Non-Religious Wedding or Marriage Celebration is that it can be specifically tailored to your own wishes and taste. Between us we can create a very personal statement that describes your unique relationship – and your hopes and aspirations, as you undertake this special commitment to each other.
Your ceremony can take place wherever you would like. It might be in a garden or park, in a woodland glade or on a beach, in a village hall, a hotel, a stately home or castle; or any other location you might choose! YOU DO NOT NEED TO BOOK A VENUE WITH A MARRIAGE LICENCE FOR YOUR CEREMONY!
It can take place on any day of the week, at any time of day. It can be just the way YOU want it to be: formal, traditional, laid-back and relaxed, humorous or romantic! Together we can make it as imaginative and innovative, or as simple and straightforward as you wish.
So what is the procedure?
First Meeting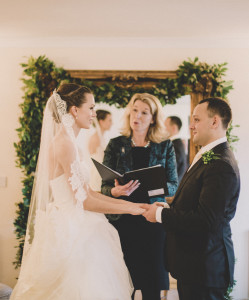 We set up an initial meeting, where we start to get to know each other. This can be done face to face or if you are a considerable distance from me, using Skype or FaceTime – or over the phone is absolutely fine. At this point I will discover a little about you – perhaps how you met, what your interests are, what you love about each other, why you have decided to commit to one another with (or are thinking about) a Humanist ceremony etc. This information helps me to begin to consider a ceremony that is bespoke and fitting for you.
This first meeting or call, most importantly, gives you the chance to ask questions and to decide whether I am the right person to help create and then conduct your ceremony.
Second Meeting
At this stage I secure your booking in my diary and take a booking fee.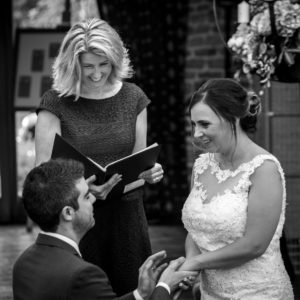 We then arrange to meet again (ideally several months before your ceremony) to decide upon content and practicalities, discussing matters such as: roles and involvement of friends or family members – whether there will be attendants – maybe bridesmaids, best man/woman/person, flower girls, pageboys, groomsfolk, a bride tribe, etc; whether the two of you wish to enter as a couple, with a sibling or parent, with or without attendants. We decide upon the extent to which you wish to say why you have decided to marry, how much you wish to include about your journey as a couple, how you will make your vows/promises to each other, the inclusion of any prose readings or poetry, who might participate in the ceremony – and lots of other details.
Don't worry if you have no specific ideas regarding wording for vows/promises or readings/poetry – I am happy to provide many ideas, to help you to select words that are appropriate and meaningful to you.
Read my blog post about personalising your vows – click here
Following our second meeting I create a first draft of your ceremony. I email or send this to you for your initial comments and revisions; then we continue to amend the script until you are completely happy with it, and I feel it will work well on the day. The script is finalised about a month before the ceremony (so I can leave you alone after that, to organise all the last details with your other suppliers!).
My Fee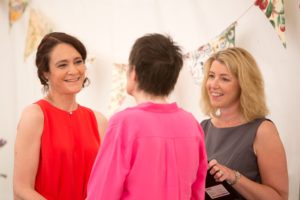 My fees are within the national recommendation of Humanists UK. Humanist ceremonies take several days to create and perfect; there is much time spent on communication between us and I need to take into account travel costs and such like. Personally written for each scenario, each ceremony involves a significant amount of time spent meeting, researching, writing and editing. All of this is taken into account when setting the fee.
My fee includes: both meetings with you, my time spent writing several drafts as necessary, my attendance at the rehearsal (very important!), a Wedding/Partnership Certificate (if you'd like one – not everyone does), a presentation copy of the script for you to keep afterwards, and of course, attending and delivering the ceremony for you on your BIG DAY.
After our first meeting I ask for the booking fee (to secure your ceremony date in my diary). I request that the balance of my fee is paid three weeks before the ceremony date.
Rehearsal
This is usually arranged to take place during the week leading up to the ceremony day itself.
Many couples find it reassuring as it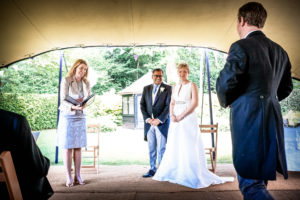 really helps to calm any nerves. We do not read through the entire ceremony – rather we sort out entrances and exits, where people will stand/sit, and at what stage in the proceedings each person will play their part. So if possible, everybody who is to take part will be present at the rehearsal but definitely not a problem if this can't be arranged. The run-through allows us to iron out any unforeseen problems, and ensures that everyone knows exactly where they have to be and what they have to do!
The Ceremony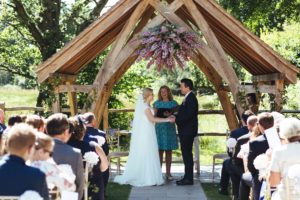 On the day I arrive at the venue in good time to organise myself and the presentation, to meet again briefly with those taking part in the ceremony, chat to the photographer, etc and then conduct the ceremony itself. And there you have it – you are most WONDERFULLY wed!
Do get in touch if you would like to discuss your ceremony or have any questions which are not answered here (or on the FAQs page of my weddings website). I look forward to chatting with you.
Email: jblackmancelebrant@gmail.com  Mobile: 07814 208087
(Photos above are courtesy of Firefly Photographic – www.fireflyphotographic.com, Lyndsey Goddard Photography – www.lyndseygoddard.com and Eve Dunlop Photography)