We have moved into a different stage in how we cope with the Coronavirus situation. It has been very hard for people not being able to share  grief and participate in an appropriate farewell ceremony. Funeral Directors, Chapel Attendants and Celebrants have all been doing their best to help people experience a loving, appropriate ceremony, giving families the care, attention and compassion they deserve.  We are now allowed more mourners and I am happy to go back to visiting families face-to-face, but we still need to look after one another and ensure safe interactions. As always, there will still be humour, there will still be music, there will still be love.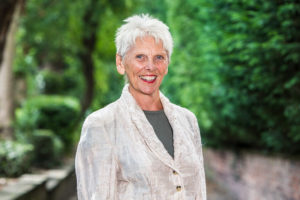 "Jan has a lovely warmth that shines through."
I have been proud to be a Celebrant with Humanists UK since the beginning of this century! During these years I have been able to bring skills, personality, life experience and empathy to help people through sad times and happy times.
Whether it be a funeral, wedding or naming ceremony I think it's important to be genuine, empathic and joyful.
"Jan's professionalism and upbeat personality shone through and helped us create a personal and meaningful ceremony for which myself and all my family are extremely grateful."