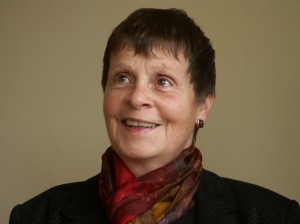 Many years ago I decided I would become a celebrant for the BHA. The experience of an absolutely brutal religious funeral left me reeling. Thankfully, this was followed by several heartwarming and, oddly, life-affirming Humanist funerals.
So, here I am, repaying the debt. I'm not just doing funerals. I also do baby namings and welcomings as well as weddings. All significant milestones are worthy of a ceremony. If you have an idea you want to explore with me, just get in touch.
I've been training indirectly for celebrancy since I was in my twenties. I was an actor for twelve years. I left the theatre in 1987 to make space for my writing. Since then I've had seven poetry collections published. My fiction also appears in a number of anthologies and fiction magazines. I've worked as a writer in residence in a prison and various hospitals and I run writing workshops from time to time in schools and community centres. You can see some of the work I do if you click on my blog and my other website.
If you want to know more, here's my recent podcast interview with Simon Smith, also a Humanists UK celebrant.
I'm interested in how we make sense of our lives. I'm interested in how we pass things on from generation to generation, how we learn to be friends, good neighbours, good parents, good partners. I'm equally fascinated by how we get things wrong!  Humanity is complex.
I come from a tradition of Humanist thinking. My great-grandfather was an admirer of Robert Ingersoll. He had this to say:
This day shall be mine. From the first gray streak of its early dawn till the last golden ray of its setting sun melts away on the horizon of the West, it shall belong to me.

With charity for all, I will go my way, following the dictations of my own conscience; and strive with all my power to lift my fellow-man from the darkness that surrounds him.

I will live so that should tomorrow dawn, I may look upon to-day with a feeling that I have added my humble mite to the cause of Justice and Humanity.

And it shall bring me much joy.
                                                                                                                                                       – Thomas Heath Flood
That's not a bad philosophy.
And here's my motto:  Carpe diem. Seize the day! But don't just seize it – make it count.
Data Protection and Privacy Policy
The personal information that you provide for the purpose of building a funeral, naming, wedding or any other ceremony will be retained for a period of seven years in the event you require my services again and where such continuity is desirable. If you wish to have all your information erased immediately following a ceremony, or at any time thereafter, please get in touch by phone or email to confirm this and I will act accordingly.