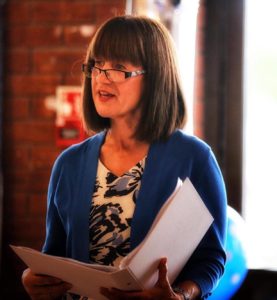 CORONAVIRUS – COVID-19 as of  September 2021
I am currently well and following Government recommendations. If you need my help with a funeral, I will be available but with some restrictions.
Home Visits
I am able to offer home visits however if you would prefer to just talk over the phone, e-mail  or  facetime etc. that can also be arranged. 
The Funeral Ceremony
At the ceremony itself I will have to refrain from personal contact and will follow hygiene and social distancing. 
Video links
Many crematoriums can offer video links for those who are unable to attend or you can live stream the ceremony yourself.
Network backup
If I have created the script but then have to self-isolate on the actual date of the ceremony I will contact the Humanist Celebrant network to find a colleague who will be able to conduct the ceremony on my behalf.
Welcome!
My name is Wendy and I have been an accredited celebrant with Humanists UK for many years, delivering  non-religious naming, wedding, and funeral ceremonies in and around Birmingham and the West Midlands.
Like many of us I've been a Humanist long before I discovered what the word Humanist meant. Put simply it is a life stance that acknowledges we can live a good, positive, ethical life without religion or supernatural beliefs. As part of that, I feel it is a true privilege for me to be able to work with people who are non religious or where religion is not important, to enable them to mark some of the most important events of their lives.
When arranging a Humanist celebration of a new life, a life lived or a new life for two people in love, it is vital that you choose the right celebrant for you. You will find some more information on the following pages, and do get in touch if there's anything more I can tell you – with no obligation or pressure.
It would be great to hear from you.