For many people a 'religious' funeral with hymns and prayers is simply not appropriate or just not something that the person who has died, or their family would want. This is where BHA celebrants come in, as fully trained, insured and accredited group of people from all walks of life, who care deeply about giving the person who has died, a sympathetic, appropriate, and unique ceremony. Every single funeral I conduct is special to me, they are all different and personal to the deceased and their family. I always include a time for reflection during the ceremony which can be used for quiet prayer by those attending who do have a religious faith.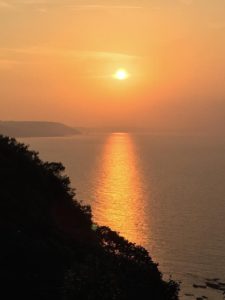 I will initially meet with you and possibly other people closely affected by the death, to talk about the options available, also to gather as much information as possible about the person that has died. We will talk about what sort of ceremony you would like, whether there is someone who would like to participate with a reading perhaps, and the type of music that you want played. Above all, it will be about the person that has died and the memories they leave behind, if possible, a celebration of that persons life.
"On behalf of us all, I just wanted to thank you so much for a very fitting and moving ceremony yesterday.  We really felt you presented the tributes so well and I'm sure mum would have approved too!"
" Thank you Kim for the lovely ceremony you created for mum, you managed to use the information we gave you along with your suggestions for readings, it was just perfect."
"It was lovely that you were able to support us and allow us to come up with a ceremony that was so personal to us" 
"Thank you for the lovely service you conducted for us . Everyone has gone out of their way to tell me how special it was. I think it has set a few people thinking."
"Dear Kim,  it is a year today since you conducted our dads  funeral.  I just wanted to say that you have been in my thoughts many times over the past year.  you did such a wonderful job, once again many thanks. "
"Dear Kim, I wanted to say what a wonderful job you did. I have had so many people say how smoothly you made the service run and so many people have said to me they didn't realise they could have a humanist style funeral and that this one has set the blueprint for future funerals as they all want one like ***** Thank you so much -it turned out to be the joyous celebration of his life **** would have wanted -you did us proud".
"Dear Kim, I just want to thank you for your contribution at ***'s funeral last Saturday. The words were perfect and everyone enjoyed the celebration of his varied life, and my accountant actually said it was the best funeral service he had ever attended. Even the sun shone, and at such a sad time it was an uplifting memory of a man who lived life to the full right up to the end with all his large family around him."
Please contact me if you want any further information.
Contact details
I can be contacted on Telephone 07465 298334 or by e-mail on kim.baker@humanistceremonies.org.uk
Where I work
I work mainly in Cornwall and Devon, at the various crematoriums, burial sites, and private venue's for memorial ceremonies. But I will consider travelling further afield – please contact me to discuss.
Other useful links: Pentiddy Natural Burials : http://pentiddy.co.uk/naturalburials/