From the moment we chose Kim to officiate at our humanist wedding service, we never looked back. She was friendly, efficient and put us completely at our ease. The initial chat we had to talk over ideas was much easier and more comfortable than we imagined. Kim helped us to make choices, without hurrying us or making any judgements but with helpful tips and suggestions based on her experience. Whenever we were unsure if something would be "right" or not it was lovely to hear her saying "It's your wedding – you can do whatever you want".
She also reassured us constantly that nothing was "set in stone" and that we could change our minds as often as we liked, which we often did in the weeks leading up to the big day. Her patience seemed to be boundless!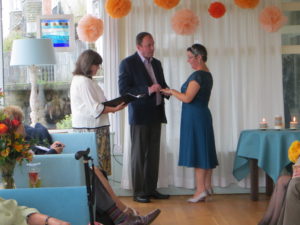 On the day of our ceremony she was a wonderful calming influence, taking all the pressure off us and making sure that we could enjoy the moment to the full. She made sure everything ran like clockwork, whilst magically still seeming to remain in the background and ensure that the spotlight was well and truly on the happy couple.
Our guests, many of whom had never been to a wedding like this before, told us that they loved the whole thing. And many remarked on how refreshing it was for the ceremony to be led by someone so friendly and inclusive who was clearly genuinely happy to be there.
Micki and Philip          Looe, Cornwall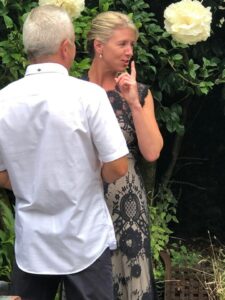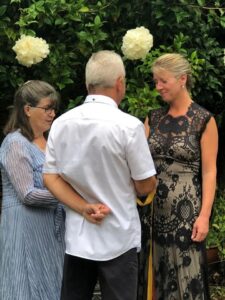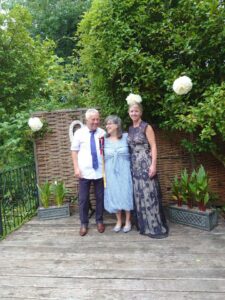 Garden wedding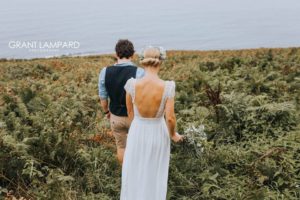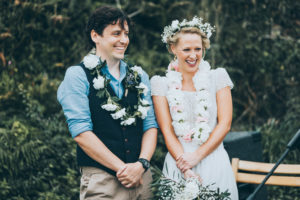 "We had an Hawaiian lei ceremony during the wedding, where we placed leis to our parents … It was a really lovely moment where we were able to acknowledge their importance to us."
Ceremony on cliff edge at Porthleven, Cornwall.
"Kim made our day very special and one that both of us and our guests will never forget, we highly recommend Kim"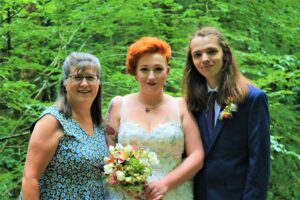 woodland wedding at Golitha Falls