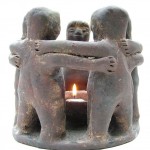 Many years ago, having had a death in the family, we were put in touch with a humanist celebrant. At the time, I was so relieved that such a person existed – no need to wheel in a hapless minister whose duty is to faith or dogma as much as to the family
Since then, things have changed beyond recognition and the range of choice of funeral celebrant can be quite bewildering. What I aim to do is to provide a ceremony that belongs to those closest to the person who has died. It is not "mine", even though I may write much or all of it. It is not a platform for my views, either. It is a celebration of or a commemoration of life.
I'm as flexible as I possibly can be and, yes, I'm a singer so I regard hymns as part of our poetic and musical heritage…sung rarely at humanist ceremonies, of course, because there is such a wealth of other music that can be included. But who could deny an old sea dog "Eternal Father" or a football fanatic "Abide With Me"? (Sadly, of course singing has been off limits with the virus protections measures)
Of course most people do choose secular music, whatever their personal favourites may be. And one of the tremendous things about our work is the range of music, literature, poetry as well as personal approaches to life and death that people bring.
Memorials are a particular interest of mine, having conducted several for people who have donated their bodies to research – which can leave families with a dilemma. I have also conducted ceremonies for the interment of ashes, as well a seed sowing ceremony in memory of a countryside lover.
I've been often to our nearest truly "green" burial site and am happy to advise on ceremonies conducted in such settings.
2020 / 2021 Update:  The Covid-19 pandemic has altered funeral ceremonies hugely and many families have found the restrictions very distressing.  Working with Funeral Directors, Crematoria and Cemetery staff as well as with families, my aim remains to create the best possible ceremony even in such difficult times.  Later memorials and other events will perhaps become possible in time in a way that provides an opportunity to commemorate and celebrate a life more fully.  Meantime, webcasting and virtual meetings to plan and to meet those close to the person who has died have gone just a little way to bridging the gap between former and current times.