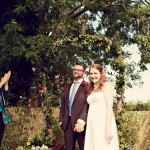 Loving partnerships of all kinds are to be celebrated!  And celebrated in a way that is just right for you.  I've conducted ceremonies as diverse as one for just the couple – a very moving occasion by a beautiful lake – or, at the other extreme, a huge do in a theatre.  I'm proud to have been in at the beginning with Civil Partnership celebrations, too.
The people have varied as much as the venues and of course I take my lead from the couple involved.  Designing and drafting a ceremony that has traditional elements or is totally alternative has provided me with great experience and a real enthusiasm for this area of work! 
Most people want to involve those close to them in the wedding or partnership ceremony and I'm happy to think up something special, as well as age appropriate, for key participants.
Renewals of vows are an increasingly sought after ceremony.  Either to celebrate a particular anniversary,  to renew commitment after a time of difficulty or simply to say "I still do".
2020 / 2021 Update: Please note that I'm not taking new Wedding, Partnership and Renewal ceremony referrals for the foreseeable future, concentrating instead on funerals and memorials.  Colleagues in Kent and around the country are available through the Humanists UK Celebrant Search facility  
Picture credit: Sacco & Sacco photography