"We really appreciated your help … to guide us into a ceremony that reflected us, our values, what we wanted to communicate and also one that was entertaining and special." (quote from wedding couple)
A bit about me
Hello, my name is Cate Quinn. I live in Knaresborough (between York and Harrogate) and conduct non-religious wedding and funeral ceremonies mainly in North Yorkshire, but am happy to travel further afield on request (including overseas weddings).
My role is to help you to mark significant events in your lives in special and individual ways – a role that I find greatly rewarding.
Conducting non-religious ceremonies for couples and families also enables me to meet many diverse and wonderful people, and to learn from the insights and stories they share.
Your ceremony will be all about you, your values and the relationships you have built. To find out a bit more about me, go the the 'About me' page.
My commitments to you
Whatever the nature, scale or setting of the occasion, I commit to:
Meet with you at a time and place of your convenience
Provide you with a personalised, sensitive and respectful service
Explain the process and what you might expect
Work closely with you to craft a ceremony that is distinctive and genuinely reflects the person or people at its centre
Provide you with a presentation copy of the ceremony to share with those who are unable to make the service and to look back on in years to come
Charge a fee that is fair and in the range recommended by Humanists UK
If you would like to find out more:
Please take a look at the page relating to the type of ceremony you are interested in and call me on  07708 381303, or email at: cate.quinn@humanistceremonies.org.uk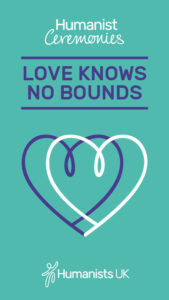 If you've found this website, it's likely that you are looking for a non-religious ceremony. This may be because you identify as a humanist, or simply that you feel that you want your ceremony to be about you and your life, without referring to any religious belief.
At Humanists UK, the word humanist is explained as having come to mean someone who:
trusts to the scientific method when it comes to understanding how the universe works and rejects the idea of the supernatural (and is therefore an atheist or agnostic).
makes their ethical decisions based on reason, empathy, and a concern for human beings and other sentient animals.
believes that, in the absence of an afterlife and any discernible purpose to the universe, human beings can act to give their own lives meaning by seeking happiness in this life and helping others to do the same.
A humanist ceremony is a chance to celebrate what it is to be human – the values we share, the support we give each other, our ability to connect and to be an important part of each others' lives, our capacity to reason, our curiosity to learn and to be creative!
The value of a ceremony conducted by a humanist celebrant is that it truly places the person or couple involved at its very heart. Family and friends have commented on how 'beautiful and touching' they felt a ceremony was, including guests who may have been nervous about what a non-religious ceremony would look like.