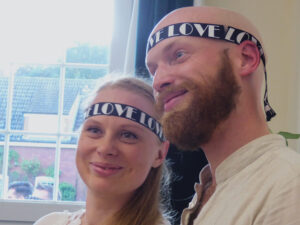 It felt like we were in excellent hands having Cate to do our wedding ceremony. She was so organised with her planning and asked us just the right questions as we discussed what we wanted to do. I was really impressed with how she took the information we gave her about ourselves and our relationship and suggested interesting, fun ways that we could incorporate this into our ceremony; giving lots of thought to making it personal, just for us. It was lovely to hear all our guests' positive comments about the ceremony afterwards as well! Thank you Cate!
It's not often that you get to deliver a ceremony and be a guest in your own right, but I was overjoyed to be asked by my stepson, Sam to officiate at his English wedding to Eglė at the North Wootton Village Hall in Norfolk. They had already conducted the official proceedings in Eglė's home town of Siauliai in Lithuania.
Being both from performing arts backgrounds, no-one knew quite what to expect for the happy couple's arrival. In their own inimitable style, they were bundled out of a van, having being 'kidnapped' by a bunch of clowns!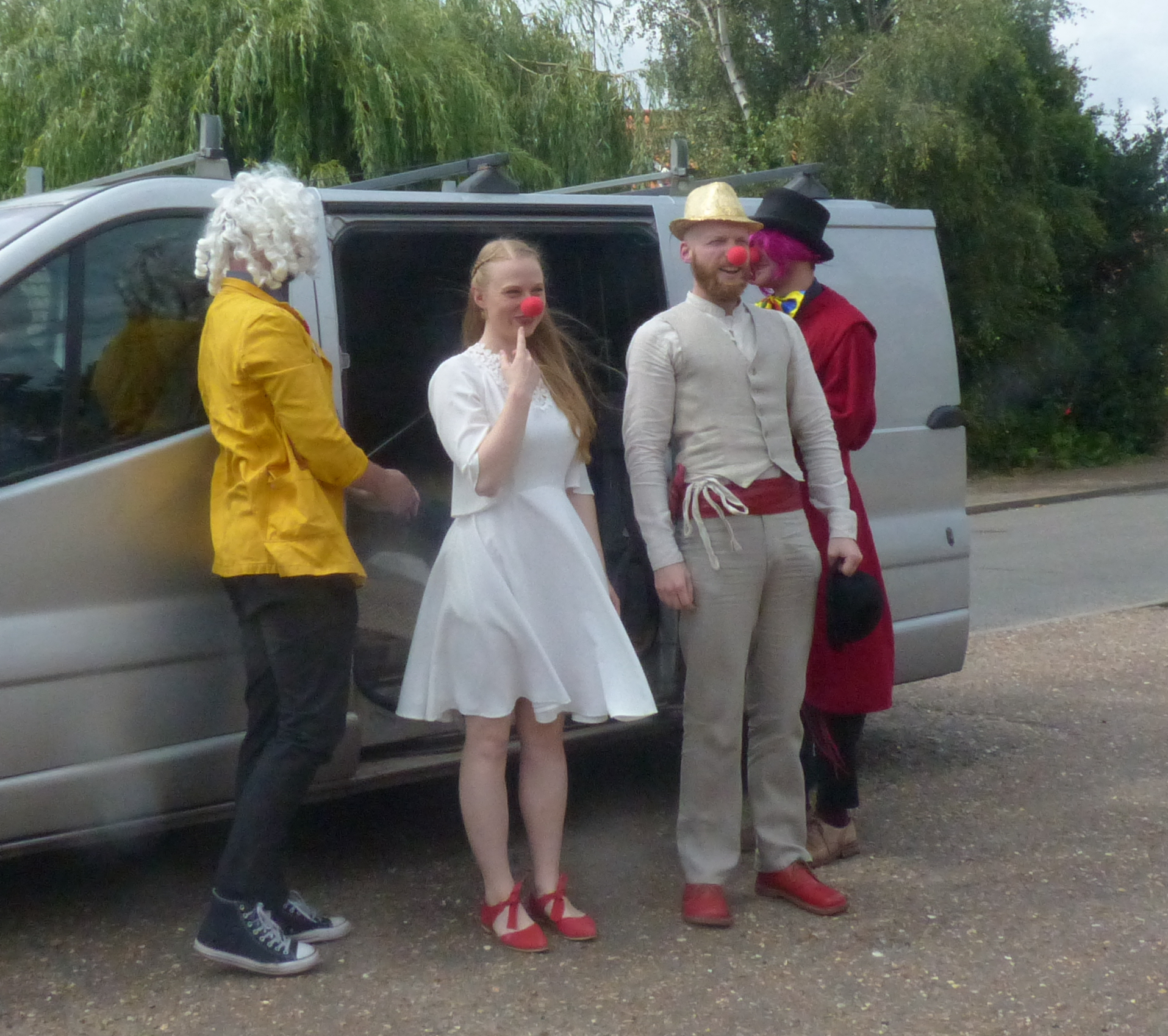 As good humanists, we don't believe in magic or superstition, but symbolism is important to all of us, whatever our beliefs. And so, I invited Eglė and Sam to take part in a water-blending ceremony to represent the coming together of their families and nationalities from England and Lithuania.
For Eglė, I had prepared a bottle with green liquid that represented harmony and her name, which translates as fir tree. Sam's bottle contained yellow liquid to represent the happiness and joy that he embodies. As they poured them simultaneously into the vase, the two different colours collided to become red, just like the passion that Sam and Eglė bring to this relationship. As they were mixed, they became pure, never to be divided, just as we hope that the bond of marriage between Eglė and Sam will remain unbroken.
There was a further surprise when Sam and Eglė made their vows. I unveiled Sam's handmade Tombola that has brought him good fortune as a creative performer. Instead of raffle tickets, the barrel contained Eglé and Sam's unique vows. They had chosen vows that they felt would apply equally to either one of them, so it didn't matter which ones they selected to say to one another.
Although this lent a touch of humour to the proceedings, it did not detract from the seriousness or sincerity of their vows.
Adding a further touch of creativity, Sam's step-dad, George had made their wedding cake in the style of Eglė's distinctive art work, as did I for their keepsake ceremony and ceremony and certificate.