A Humanist wedding ceremony gives you the opportunity to have the style of ceremony that you want in your chosen location. Whether indoors or outdoors, formal or informal, every Humanist wedding is a unique event carefully crafted for you on your special day. I conduct weddings across Devon, Dorset, Hampshire and further afield – (including one in Gloucestershire from inside a rally car!).
How does it work? 
First we meet, discuss your wedding; the ideas you have and the things you want to happen and together we will plan a ceremony that is right for you. We can include symbolic actions and rituals (for example: hand fasting, ring warming, sand/spice blending) readings, poetry, the involvement of family and friends and, of course, the wedding vows. I will then design the ceremony, email the draft to you for your thoughts and any changes. Once you are happy, you confirmed that to me. I am happy to attend a rehearsal as this helps everyone to know where, and when, they need to be and makes for a smoother ceremony. On the day itself I arrive in plenty of time to set up, prepare and then conduct the ceremony.
What does it include?
An initial visit to discuss the ceremony (your ideas, rituals, vows, readings etc.),
The Preparation of the ceremony script (with edits as required),
The rehearsal (prior to the day),
Conducting of the Wedding Ceremony,
A symbolic certificate,
A presentation copy of the Wedding Ceremony (a pdf can also be made available).
How do we book?
E-mail or call me with your chosen date, the venue (if you have decided) and I can confirm my availability, we can then arrange the initial meeting.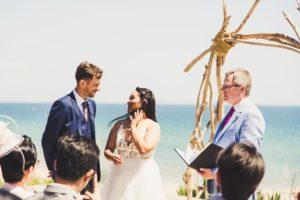 Fees
My fee of £550 covers weddings within 40 miles of Bournemouth.
Simon