(I really appreciate families taking time to write to me afterwards .  To those who do, it makes a big difference to know how the ceremonies are received, thank you.  Frances Baskerville)
Dear Frances, Thank you so much for putting together my Mum and Dad's funeral.  We have had lovely feedback from family members both in the chapel and watching via the webcast.  We are so pleased they had a dignified service, take care X & all the family. February 2021
Dear Frances,  Thank you for all your work for today's ceremony. It was a great goodbye to our mother and beautifully assembled.  We are very appreciative. J. February 2021
Hello Frances,  Thank you for the lovely service today,  I've had great feedback from  my sister and all her grown up children in Australia, as well as many others. They loved the story telling and the Webcast they thought was just right, picture and sound quality.    Thank you again,  S January 2021
Hello Frances, 
I am not quite sure where to begin.Thank you for making Dad's day last Wednesday more special than we could have imagined. You carried our family seamlessly and gently through one of the most difficult days of our lives.  The service was as Dad would have wanted, a few tears were shed of course, but there was an abundance of laughter and happy memories. A fitting reflection of my Dad and I know he would have been chuffed with his send off.  Dad wanted us to celebrate him and his life.  With his funeral you helped us achieve that, with your calm guidance throughout the ceremony. From the outset, Mum and I felt safe in your hands.  On the day, your encouragement of us all and the warm, intimate atmosphere enabled us to speak our own words, which no-one thought they would be able to do.  As you said we would, we are pleased that we spoke our words for Dad and are comforted by the fact that we did.  
Thank you also for the 'Script'.  It's good to be able to read and reflect on everything that was said, your comforting, uplifting words and our own.  The addition of the photographs is wonderful too.  A very thoughtful touch and I know it took a lot of your time and effort to put it together for us. Wednesday was a beautiful occasion Frances.  A healing occasion.  A gift from you to us.
The words 'thank you' will never be quite sufficient to express how grateful to you we are as a family. Nonetheless, THANK YOU Frances, from the bottom of my heart. Kind regards, Jenny XX August 2020
Thank you so much for all you did yesterday to make Mum's service go so smoothly. We have had many comments about what a beautiful ceremony it was. Kind regards, Faye August 2020. 
Hi Frances,  hope you are well and have arrived safely in Scotland. Just a note to thank you for the wonderful way that you conducted the service yesterday, It helped make the day more bearable. Don't forget about the tea and cakes in the garden ,we'll be in touch! Thank you again so much, You're a 
xx  love Elaine and Sophie. August 2020
Hi Frances,  I just wanted to say thank you for your handling of the service today. Within the current restrictions, I feel we gave Gretchen the respect and dignity that her life deserved.  Stay safe, and once again , thank you. L April 2020
You were amazing today thank you so much all the family thought the service and the way you conducted it was very special it was like you knew Dad. This meant so much to us as it was so difficult not to be able to hug and kiss our family.  Thank you again and for the copies of everything and the order of service in fact,  just thank you. L & J March 2020
I hope you are well – we wanted to say a huge thank you for last Thursday. You were amazing and you made the distress of the day bearable.  H & R February 2020
I just wanted to say how well you conducted Austin's funeral. I know Jane wanted to paint her picture of her father. He certainly was one of life's characters.  I've never heard people clap at a funeral before!  Jane and several other people said how sensitive you were and how sincerely you conducted the ceremony. Not an easy one, I feel.  R February 2020
Thank you so much for such a wonderful service, it was very touching.   I  spoke to Louise my cousin  – she said it was a lovely gift for you to give him for Julie to be part of funeral.  Once again thank you for a lovely service,

Rosalie xxx  September 2019
Thank you so much for all your hard work and for making it such a  memorable day. Everyone said what a lovely service it was and how beautifully you handled it all.   N June 2019
Thank you so much for your efforts, material input, understanding and much valued support and guidance throughout this sad, but inevitable time in our lives. Your input has been most valuable without which we really couldn't have organised this service, it is a credit to you.  You have been an absolute joy to work with and I feel very lucky to have made your acquaintance. D June 2019
I wanted to say a big thank you for all your contribution, ensuring Dad's memorial service went well.  It was a fitting tribute and many have complimented the service.  L March 2018
Thank you so much for such a wonderful service, it was very touching.   I Spoke to  my cousin (dads sisters son) he said it was a lovely gift from you to give a presentation script for Mable, so that she could be part of funeral.   Mum would love another hard copy of the service if possible, when ever is convenient.  Once again thank you for a lovely service. S xxx February 2019
Thanks so much Frances for all your help and support, and most of all for today. Things could not have gone better. O November 2018
Thank you so much for today YOU were brilliant.  I hope our paths cross again. I

 will be sending Sarah Lee of Holmes & Co a glorious report of you  A, W & family November 2018
Thank you so much for your care, attention and delivery of Belinda's  ceremony. You made the process as easy as possible and I'm thankful for that.   Much love, A August 2018
Frances, I can't thank you enough for today.  The effort, care and attention you put into Dads service meant so much to me, mum and Mary.  I'm so glad we found you to be a part of celebrating Dad's life, I'm really sure he approves too.  Please keep doing what you do for families, it's worth an immeasurable value in saying goodbye, remembering and valuing life.  Thank you.  F May 2018
I just wanted to say how grateful I am after today, everything went so well, and the family couldn't rate you highly enough when I left with them! Thanks Again, Bradley Stroud,  Co-Op Funeral Directors, Addlestone January 2018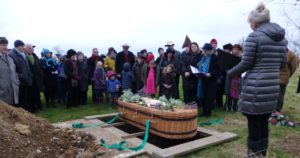 I've been meaning to write to you for months to thank you for everything you did for us back in September. Each time I sat down to write I found myself lacking the right words. Now, at the end of the year, with Dad's death and funeral a few months behind me I think I understand just how important your advice and support helped. You let us say goodbye in a way that worked for all of us. No mean feat with our rather complicated set of family relationships. 
I'm still short of words, so 'thank you' is the best I can manage. I'll be raising a glass to my dear Dad tonight, and to you as well. You do magnificent work and I'm so grateful we found you.
With all good wishes for 2018 for you and yours, K December 2017
What a great pleasure it was to meet you yesterday. I've been busy forwarding your attachment to all who knew and loved K!!!!  It was really kind of you to send it to me.  I had a beautiful evening at N's house with the family. It was so nice and rounded off what had, in spite of the sadness, been a lovely day. You had a great deal to do with that.  I told my few friends on Facebook what a lovely ceremony it had been, and the response has been a delight.  I know I want a humanist ceremony when I go!  P June 2017
I just wanted to write and say thank you for the lovely service that you conducted, in Aldershot on Wednesday, for my good friend L.  You conducted things in such a lovely, quiet, calm and peaceful manner whilst interacting with the family and friends in a very human and caring manner.  Thank you so much!.  It gave me much to think about, going  forward, and certainly helped me to get through a difficult day. D June 2017
I just wanted to drop you a line to say a big thank you for everything you did for H and the family.  It truly was a brilliant celebration which we will all remember forever and no small part of that was due to how wonderful you were in bringing it all together so smoothly.  So many many thanks for that and looking after us so well leading up to that day. D June 2017
Monday was a wonderful celebration of dear J's  short life.
I am so very grateful for all that you did for H that enabled her to make the day possible.
Without your assistance things would have been very different Frances.
From the response we have had from those that attended we've set a precedent for funerals, no more black Hearses, cold churches and sombre priests…
So I thank you from the bottom of my heart Frances, with love, J  June 2017
Just wanted to drop you a line to thankyou for today, the words were beautiful and delivered with such feeling and compassion it made the whole experience so much more bearable almost lovely,we are currently with A settling her down and reflecting on our day which you played a huge part of making a success, once again thank you from myself and B, we will be highly recommending your services to people in the future. M  April 2017
"Good Morning Frances, 
I just had to write to let you know how many messages I have received about Dad's service yesterday.  Also I want to thank you dearly for such a beautiful tribute to him, I think he would have been very happy and proud.  So many people commented yesterday saying what a beautiful personal service it was.  I feel between us we got it just right!   I am so very grateful we met all be it under sad circumstances.    Thank you so, so much and sending love."   S & family March 2017
Hello Frances, I just wanted to say a massive thank you for taking the service yesterday.  Our client could not sing your praises enough and I very much appreciate all you did for the family and helping to make a very difficult day much easier to cope with. Many thanks, Sanantha Ewins, Funeral Arranger, The Co-operative Funeralcare, Addlestone.  March 2017
"A big, big thank you for everything you did yesterday.   We have had such amazing feedback about Mum's funeral she would have been so pleased I'm sure, it really was a wonderful tribute for her."      LJT January 2017
"I have forwarded your email to my funeral arranger and let her know you took a lovely service, so I hope to work with you again in the future".                                                                                                                                                                                          Christopher Fear Funeral Director  Co-Op Hayes January 2017
"Thank you for the printed Order of Service for June.   Thank you very much also, for all your help. Everyone said that you were brilliant and that the service was lovely."     S & P December 2016
" I speak for all 3 of us when I say thank you for yesterday: I don't think it could have been a better celebration of mum.  We all are so grateful for the way you captured her, the tone you set and the warm way you conducted both events. We are really happy that it went so well and we feel we did right by mum!  Thank you very much for the document: I know my family in Melbourne are really keen to see it. Thank you again, it was a pleasure meeting you and thank you again for making such a difficult time easier and helping us recognise and say farewell to J."     S  October 2016
"… having you there made everything easier.  You gave us just what we wanted Frances, thank you"     SM September 2016
"Thank you so much for giving us such a wonderful service, we were so pleased to have found you"    M & K  August 2016
"Dear Frances
I would like to express my thanks to you for making P's farewell so natural and warm.  I have had many compliments about the day from my family and friends saying it was such a beautiful service, very different and happy;  a celebration of  P's life. 
 The tribute you created was beautiful, interesting and very easy to listen to;  it all just flowed beautifully.
Two people said it was 'The best farewell I've ever been to' and I make three.
I was too busy to talk to you during the party and a bit tipsy towards the end;  I wish I had.  You are fabulous darling (as P would say)."     S  August 2016