You may have heard of, or attended, a humanist funeral or humanist wedding ceremony. But did you know that you can also choose to welcome your child into your wider family with a celebratory humanist naming ceremony?
We live in an increasingly secular society where traditional religious christenings and baptisms are not an option for most families. Yet we all feel it is important to mark the arrival of a child; it's a special milestone for any family. This is where a humanist celebrant can help – by working with parents to create a meaningful, personal and joyful naming ceremony that focuses on celebrating love, family, and friendship.
Although many parents choose to include a naming ceremony as part of their child's first birthday celebrations, naming and welcoming ceremonies can be conducted for babies and children of all ages. They can also be a great way to welcome an adopted child into their new extended family network, and you can have joint ceremonies for a set of siblings.
So, what happens at a humanist naming ceremony?
The short answer is – anything you want! Each humanist naming ceremony is crafted carefully to not only celebrate your new arrival but also to reflect your hopes and wishes for your child. And they can be as traditional or creative as you like. Generally they last around 20 minutes and most families continue the celebrations with a tea party afterwards.
Here's a short video that should help you visualise what a naming ceremony might look like:
Humanist naming ceremonies often include parental promises, the appointment of godparents/guide parents, songs, readings, and maybe a symbolic act such as sand blending, candle lighting, or even planting a tree. In addition, many parents like to ask their guests to contribute wishes – this can be done visually as coloured fingerprints on a drawing of a tree, or written on stars, or in a special 'wishes' book.
You don't need a special licence so you can hold your child's naming ceremony wherever you like – and depending on the number of guests you plan to invite and maybe the weather. Possible venues include your house or garden, a local park, a village hall, pub function room, a zoo, a cafe, a community sports hall, and schools.
How I work with parents

I like to sit down with parents to discuss all aspects of their baby or child. I like to hear all about the pregnancy and birth and how this new arrival has impacted the family. We'll talk about the child's name – why it was chosen. Some parents name their children after a beloved relative and we can include a special mention of that. And we'll talk about the child's development and personality – sometimes strong family traits can be noticed very early on!
One couple I worked with were both involved in the scouts and guides movements so we were able to incorporate this as a theme for the day. They carried this through to the naming/birthday cake – take a look: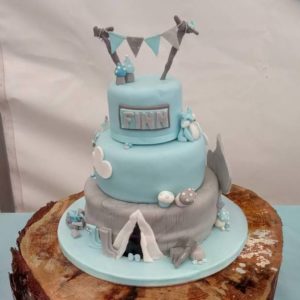 I'll ask about the wider family – grandparents, aunts and uncles, cousins etc to get a feel for who else might be important to include in the ceremony itself. Reading poems or personally written messages can be a lovely way to include important family members and friends. I've had friends sing a special song at a ceremony, and at the end of another ceremony a Rastafarian drummer led us all in chanting the little girl's name in different rhythms – which was amazing.
I work closely with parents to offer advice and help in drafting their parental promises. Some parents like to write these as a series of specific promises; others prefer to write a letter which can then be saved as a keepsake of the day;  and others like to respond to me asking them a series of questions – answering with 'We do'. It will come down to the personal styles and personalities of the parents.
Often, parents will have close friends and family that they wish to be particularly involved in their child's life. Traditionally these would be known as godparents but in humanist naming ceremonies they're more likely to be called guide parents, or mentors. Younger children and siblings can also be involved as special 'guide buddies' too.
And there's no rule about how many guide parents to have. I've conducted two naming ceremonies where we appointed seven guide parents! With so many, I find it's best to get them to respond together to a number of questions I ask. With fewer guide parents I can talk about each one and why they've been chosen. Some guide parents may wish to write our their own, personal promises – and that's great too.
I also like to involve the assembled guests in a communal pledge during the ceremony to express their love and support for the new arrival. This often sets the scene for the naming itself – where I formally announce the child's name and welcome them in to their family.
Suggested template for a humanist naming ceremony
While each humanist naming ceremony I write is unique to each family I work with, the ceremony does follow a similar structure, depending on what each family wants to include:
Welcome.
Reading/poem/song.
The child's story so far – their arrival, developing personality, interests, favourite foods and toys.
Words about the responsibility of parenting.
Parental promises to the child.
Reading/poem/song.
Importance of wider family and network of friends.
Communal pledge of support for the family.
Appointment of guide parents, guide buddies / with promises.
The naming – reasons for the choice of name / formal announcement of the name.
Concluding words.
So – there you have it. A humanist naming ceremony might not be for everyone – but it might be perfect for you and your child. Call me to find out more.