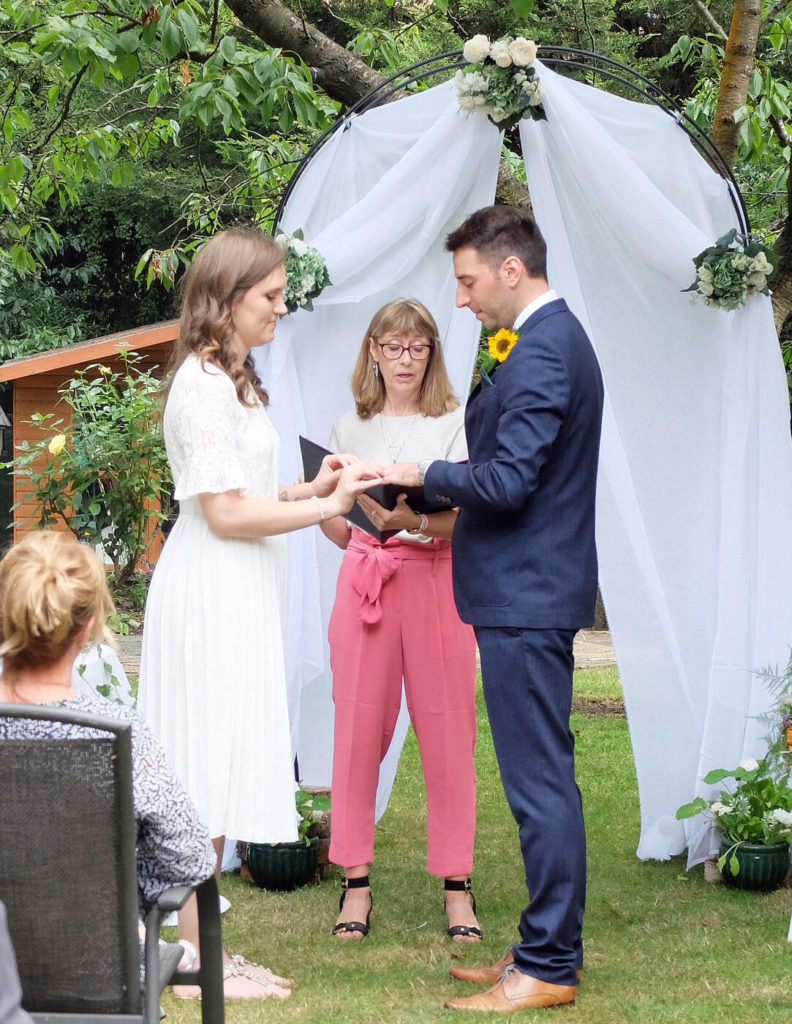 What a year 2020 has turned out to be.
The COVID-19 pandemic and lockdown has caused turmoil and disappointment for couples with 2020 wedding plans. Many couples who had planned a spring or early summer wedding have chosen to postpone their wedding until 2021 and that means increased competition for venues and dates next year.
Right now government guidance on weddings and civil partnerships effectively boils down to:
Humanist wedding ceremonies are allowed in Covid-secure venues and public outdoor spaces with up to 15 people.
Humanist wedding ceremonies are also permitted in private homes, but with a limit of six people (including the couple and celebrant).
Wedding receptions in the form of a sit-down meal for up to 15 guests will be allowed, but only in a COVID-secure venue.
So, couples with late summer and autumn dates face a difficult choice: postpone until next year in the hopes that 'normal' weddings will be allowed, or stick with their original date, with a much-reduced guest list, or organise an online ceremony via Zoom. And then have a big celebration next year with all your family and friends.
If you are still weighing up the pros and cons of going ahead with a small ceremony this year, take heart. I recently conducted a commitment ceremony for a couple in the family garden that proves that a small gathering really can be worthwhile and beautiful.
With such small and intimate gatherings (sometimes called 'minimonies'), the emphasis is more than ever on why you're getting married. Such ceremonies are about celebrating your love and the commitment you're making – the bigger reception party can wait.
So here are my top four tips for a post-lockdown humanists wedding…
Keep it short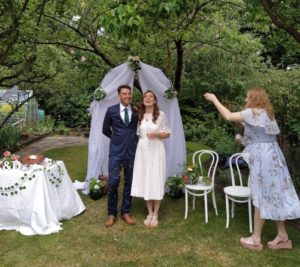 Brevity is a virtue in these post-lockdown days but that doesn't mean the ceremony has to feel rushed or incomplete. Work with your celebrant to make sure that every element of the ceremony really counts. And you can still include all the celebratory bits such as confetti throwing – just remember to keep your distance!
Keep it sweet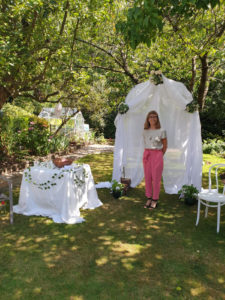 If you are holding the ceremony in your garden then let your creative juices flow. Hang simple paper decorations from trees and create a fabulous backdrop by draping gauzy material and flowers around a garden arch.
You can still dress up and make an entrance and exit to the music of your choice. And fewer guests means that those that everyone present is totally in the moment and radiating love and goodwill.
Keep it focused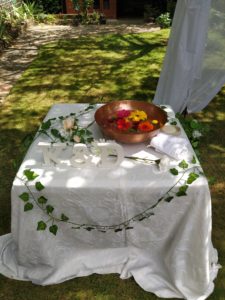 The main focus should be on your unique love story and your personal vows. New rules say that couples who intend to exchange rings during the ceremony are required to wash their hands before and afterwards. At David and Keturah's ceremony we decided to make a feature of this and had a table set up with a gorgeous copper bowl filled with water and flower heads, plus soap and two towels.
I asked the best man to bring up the rings and place them on a table. He wiped the box thoroughly and then Keturah and David took turns to wash and dry their hands before we proceeded with the exchange of rings and vows.
Keep it clean
We all understand the importance of good hand hygiene by now. So why not encourage your guests to follow the hygiene rules at your wedding by providing some customised bottles of hand sanitizer? You may even like to provide some pretty face masks too.
So there you have it. It is still possible to create an intimate and meaningful wedding or commitment ceremony in these strange times. The trick is to focus on what really matters to you and to work closely with your humanist wedding celebrant – from a safe distance, of course!