Tell us a bit more about yourself outside of your celebrant work.
I have over 25 years experience working in schools and further education; first in learning support and mentoring roles and then teaching Functional Skills and GCSE English.  I still do a bit of English tutoring to make ends meet.
I'm also a mentor for trainee celebrants and an accreditation observer, for when trainees complete their training and apply for full acreditiation.
I'm a Mum to a 28 year old, who's left me to live and work in London – my daughter is a chuffing delight and I wish she and her gorgeous partner lived next door!
I love ballroom and latin dancing with my partner; pilates; camping, especially by the sea; reading who dunnits and crime thrillers; watching films, exploring the Yorkshire Countryside and going to art exhibitions and events (Covid allowing!).  I also enjoy the odd glass of wine with friends, while talking nonsense and laughing like a banshee.  Oh and eating waaaay more food than is strictly good for me!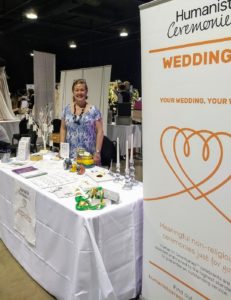 What is the most enjoyable thing about being a celebrant?
For me, it's definitely meeting the people; I love that I get enquiries from such a broad cross-section of the community. It's a wonderful privilege to be invited into people's lives and for them to share their stories with me.
If you think about it, it's quite an unusual position to be in; I only meet my clients a few times during the process of crafting their ceremony and yet I have to encourage them to share very personal details of their lives, in order to write a really meaningful ceremony script for them. I really enjoy building those positive relationships with people.
Getting lovely, heartfelt feedback from clients and from their friends and family is the most fabulous feeling, because I know that I have been able to give them exactly the celebration they were hoping for and that gives me huge personal and professional satisfaction.
Are there any downsides?
Honestly, not really! I currently do lots of weddings and namings, so I'm meeting people at very happy times in their lives, which is rather lovely.  Even when I'm working to create a funeral, it's still a privilege to be invited into peoples homes, listen to their memories and hopefully, help them navigate a challenging time more easily.
Some client meetings are trickier than others, particularly if people don't have clear ideas about what they want; but that's where the extensive training and ongoing CPD we get from @Humanists UK 2017 comes into its own – there's always a way to tease out people's ideas and help them work out exactly what they want for their ceremony.
I do hate navigating to meetings, as I don't entirely trust Google not to send me into a farmer's field and completing my self-employed tax return every year turns my anxiety up to ridiculous levels!
What are the main things you've learned since becoming a celebrant?
Listen, listen and listen.
Make copious notes during meetings – it's better to have more info than you need, than too little.
Leave all your assumptions at the door – people are endlessly and splendidly surprising.
And always set off on journeys earlier than necessary, just in case Google gets a bit quirky and sends you on a magical mystery tour.
Any advice to potential clients?
Find a celebrant who suits your personalities, your outlook and seems open to your ceremony ideas; you need to feel comfortable discussing all sorts of things with them.
Have your ideas ready for your planning meeting, or you may end up with your celebrant sleeping on your couch and completing the meeting over breakfast!
Make the most of the opportunity: you are getting the chance to create a ceromony that is uniquely yours -happy or sad – and your celebrant is there to help you every step of the way.