Testimonials from Naming ceremonies
A sincere thank you to the families who have allowed me to use their feedback and photos on this webpage and my social media platforms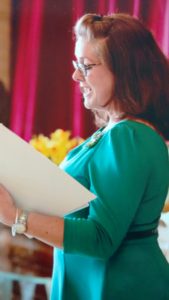 Christine is quite simply the best. She is an enthusiastic, empathetic and charismatic person as well as being brim full of love, which is exactly what you need for an important life event. She is highly responsive and works so hard to make sure everything is perfect for you. We would wholeheartedly recommend her. Ellie 2021
*****
Christine is awesome! She really is a brilliant and lovely human and an amazing, gifted celebrant. From our very first meeting through to the ceremony, we could not have asked for a more genuinely lovely person to help celebrate our daughter's naming day. 

So many guests have commented on how lovely the ceremony was; how personal and inclusive and unique it was to our family. It has been a real joy and honour getting to know you and we thank you from the bottom of our hearts.

♥️
*****
Thank you so much, you were absolutely amazing and we can't thank you enough for such a wonderful day xxx
*****
Thank you so much Christine!!!! It was a wonderful day for our special little lady! Xx
*****
Aw Christine I cannot thank you enough for our day on Sunday.
I think we truly celebrated everything Oscar and will treasure the memories forever; plus we have such lovely tokens from the day to pass on ! 
So many people said to me it was the best naming they had ever been to and everything went perfectly!
Thank you so so much and when I get the 💍 I will definitely be in touch xxx
*****
Thank you for our Charlie's ceremony script Christine; you've got a beautiful way with words and I think there may be some tears on the day!
*****
Christine was amazing throughout the entire process.
The initial meeting very relaxed, useful and personable. Christine's passion and kindness shone through in the way she communicated with us in planning the event and on the day.
Christine created an environment where we could use our imagination and plan a day which was special, unique and embedded our values and things important to us, which we want to share with our daughter.
I would have no hesitation in recommending Christine to friends and family.
*****
Christine was utterly fabulous. Brimming with confidence, and a real bubbly personality we both felt an instant rapport with her.
*****
Christine helped to plan our daughter's naming ceremony –
It was a fantastic and memorable day, filled with happiness and imagination.
Christine is amazing! I would recommend her for any events you've got coming up.

*****
I had never been to a naming ceremony before but wanted something bespoke.
I found Christine and paid her up front before even meeting with her, so I put my whole entire trust into her and she never let me down.
She was so friendly and happy which made us get on so well. I was so nervous for our first meeting to sort out the script, but within minutes I was at ease.
She was constantly in touch throughout and she held the ceremony beautifully. I had nothing but lovely comments from my guests.
If I ever decide to have another I will definitely be going back to Christine. Not only did I find a fantastic celebrant, I found a friend too! X
*****
We'd like our son to be able to make his own choices as to what he believes, so a christening didn't feel right for us; but at the same time, I also wanted to make some parental promises to G that couldn't have fitted with simply having a party. Having looked on Humanist UK website, a Naming Ceremony seemed the perfect solution.
Christine was very easy to work with – we quizzed her a fair bit initially as we knew only a little of the work that Humanist UK does, wanting to ensure they were right for us, and she happily answered all our questions.
She then took time over a few mugs of tea to understand us, our family and our ambitions for the day. After that, Christine developed a draft which required only a little editing – she found the words to convey our feelings just perfectly.
Having written our promises and full script ourselves, the service felt so much more personal, and Christine hit the perfect balance of formality and fun that worked for us, celebrating our baby's arrival, whilst also thanking our family and friends for their help and support.
We had so much lovely feedback from everyone after the service, even those who were a bit unsure what to expect beforehand!
Thanks so much for a perfect day Christine! Xx
*****
Our little boy's Naming Ceremony was just perfect, it was exactly how I had envisaged and planned.
Christine was so warm and welcoming and helped us with lots of ideas – as we had never been to a naming ceremony ourselves, so didn't quite know what to expect. All we knew was that we wanted to celebrate our little boy's first year in this world and formally recognise his arrival into our lives, but without a religious element.
We had a meeting with Christine where she met our little boy too and we spent time planning the script and then emailing through small amendments, so that it was exactly how we wanted it.
In the script Christine described are little boy and got his character to a tee, which made it very special.
On the day it was very relaxed with our little boy running around, but very happy, whilst our guests sat around tables and enjoyed the ceremony. With a baby you have to go with the flow, which Christine was very good at.
Many of our guests had not been to a naming ceremony before, but commented on how personal and touching it was and that they would definitely consider a Humanist approach themselves in the future.
We are so pleased we went down this route and it was the best choice for us and our little boy. It was perfect. Thank you.
*****
Christine was so easy to work with and put our daughter at the centre of the planning for the ceremony.
She stuck to a realistic plan and I had to make very few changes to the draft, as she had pitched the service perfectly and in line with Molly's (our daughter's) brief.
She was also great on the day and ensured that everyone had everything they needed to feel confident when speaking at Molly's ceremony.
*****
We could not be happier with the ceremony Christine prepared for us.
She was simply lovely and warm with the perfect amount of humour which made it a unique event which we will remember fondly.
It took us no time to be sure we would make the right choice in asking her to conduct the ceremony after our initial meeting.
We felt the process of preparing the event with her worked really well and felt that Christine was careful to get a true sense of who we were and of our relationship with our daughter.
The little one enjoyed it and our guests were really impressed by the ceremony.
We would definitely go with Humanists UK and Christine again. Highly recommended.
*****
Christine was brilliant, from the initial meeting, to our daughters naming day celebration.
It took us no time to decide she was the right celebrant; simply a lovely person, with a good dose of professionalism and humour.
All our friends and family commented on how much they enjoyed the ceremony; finding it personal, with the perfect balance of gravitas and humour.
She even coped beautifully with our daughter's timely vocal outbursts!!
We would have no hesitation in asking Christine to celebrate with us again, or in recommending her.
*****
Christine was fantastic. She instantly made us feel comfortable and did a fantastic job of making our little boy's ceremony so memorable.
Everyone was really impressed! Even our family members who are very religious commented on how great Christine and the ceremony were.
*****
Dear Christine, Just a quick note to thank you so much for Jack's wonderful naming ceremony yesterday.
We had such an amazing day, the ceremony was everything we hoped for and more and that's all down to you.
It was an absolute pleasure to work with you and we are so grateful for all your hard work and effort in making the ceremony so special.
Thanks again  xxx 
 *****
Christine did a wonderful job officiating our daughter's naming ceremony.
She was friendly and personable and helped create the atmosphere we were hoping for on the day.
*****
On the day Christine went above and beyond to settle my nerves about problematic family dynamics.
We felt at ease with Christine right from the first meeting. It was friendly and relaxed and although she offered us a chance to meet with other celebrants we knew Christine was perfect for our ceremony.
The second meeting was friendly and informal again yet she managed to get all the information required for the ceremony and the script reflected our wishes and outlook on life wonderfully.We had many compliments on how special, personal and enjoyable the ceremony was.
*****
Christine is just fantastic!
She did our daughter's naming day, followed by surprise wedding last year and has just done our son's naming day.
She has a wonderful, warm personality, that shines through in her presentation.
A true professional and a joy to work with as she is amazing at just picking up on exactly what you want.
All my guests commented on how lovely the ceremony was and what a great job Christine had done
*****
We wanted a ceremony that was not religious and would be personal and specific to our son. The naming day exceeded our expectations and Christine helped with a personal speech for us and delivered this exceptionally well. Her experience and know how helped our son's naming be a wonderful day. I would recommend the BHA to anybody who is not religious and wants to celebrate their day as they choose and not how religion tells them to. A big thanks to Christine for making it such a special day.
*****
Hello Christine, Thank you so much for the wonderful Naming ceremony, it was such a great experience.
Working with you was fantastic. You immediately put me at my ease and made me feel very comfortable. My husband and I greatly enjoyed meeting you and immediately knew that the ceremony would be personal, polished and done with great empathy, as it was on the day.
The service we received from you was warm, friendly but also professional. You were so easy to talk to and helpful when we had any questions or needed some inspiration as to what we might want to include in the ceremony.
We had such a lovely time as did all of our family and friends, who thought it was a wonderful experience and definitely the right thing to do with our son, who just wants to play with water all the time (and did).  Thank you so much for a truly memorable and personal naming ceremony.
Should we be lucky enough to have a second child we will definitely be in touch again!
*****
Oh my goodness Christine, I can't tell you how happy I am with how the Naming ceremony turned out…it was better than I even imagined it could be!  When I was trying to explain to people what sort of day I wanted and what I wanted to include, they kept telling me it wasn't possible and I should just do a christening; but that wasn't what I wanted.  You made everything I'd hoped for, actually happen and it was the best day ever.  Thank you, thank you, thank you.
*****
Christine, Many thanks for doing C's naming ceremony. 
We really appreciate all your time and effort.  Much love, L & J
*****
Christine was excellent. Very professional and helpful. We felt very looked after.
*****
Just wanted to say a massive thank you for a perfect day. People have not stopped talking about the Naming Ceremony and how it differs from a christening.
My Nana, who is religious, said she enjoyed it more than any christening she's been to, just because of how personal it was.
We were so pleased and it meant a lot to share our special day with you.
You thought of everything and we loved your ideas – they really helped us decide exactly how we wanted the day to be and what to include.
Thank you so much for making it so special. S & L
*****
Thank you for the Naming script; you've captured us and our ideals perfectly, so there's no editing needed. H & I
*****
Thanks so much for yesterday.  It was incredibly special for us.  It was everyone's first naming and people really 'got it'.   We had so many comments that people thought it was personal, meaningful and celebratory.  
I really appreciate the time you took with us to make it exactly what we wanted and the ceremony itself was just magical.  
I can't thank you enough.  If we are blessed to add another little one to our family, I'll definitely be in touch
*****
We just wanted to say thanks again for all you've done in helping to plan and conduct ***'s naming ceremony. You completely accommodated our needs and perfectly captured everything we wanted to say and all our ideals for raising our child. Your friendly and engaging personality helped everyone relax and enjoy our beautifully unique and personal ceremony. Can't wait to have another kid so we can use your services again! I & H
*****
I found Christine's profile through the British Humanist Association, so I was I confident she had the right credentials. What I did feel nervous about though, was whether we would connect with her and how the ceremony would be structured. There was no need to be nervous though as when Christine visited at our home to plan the ceremony, she was warm, engaging and enthusiastic.
She spent the time before hand to meet us and conduct a very comprehensive interview to learn what we wanted from the naming ceremony. She asked some great questions about us as a family and about our little boy, capturing our emotions for this very special day and created a really personal script for the day.
Our guests all commented on what a fabulous celebrant Christine was; she made people feel comfortable, relaxed and really tailored the ceremony to reflect what we wanted as individuals. It was a lot of fun and it was evident that Christine takes great pride in her job.
The day was fantastic and I would like to thank Christine for making it special.
We would whole heartedly recommend her to anyone. 
G & J
*****
Christine performed a naming ceremony for our 3 children aged 2, 3 and 4 at the time. 
So it was busy to say the least.
Christine was professional and fun, going with the flow of the day beautifully.
We wanted someone to perform a non-stuffy ceremony, letting our closest friends and family know how important our children and they are to us.
Christine did a fantastic job  putting across everything we wanted and more.
She has such a lovely manner, we can't recommend her highly enough and want to thank her for making the day even more special than we ever thought possible. 
*****
I really enjoyed that, it was just what this kind of day should be about, the child and their family and friends.