Bespoke Weddings… your wedding, your way.

Your wedding ceremony should be the reason all your friends and family gather together, not something to get through before the party.
Wouldn't it be great to start your married life or partnership with a ceremony that's really meaningful?
To be able to tell your friends and family what your relationship means to you and why you're choosing to get married, enter into a civil partnership, or renew your vows?
Many of us who aren't religious are looking for a ceremony that is more flexible and personal than those on offer at a civil or register office service.
A  non-religious, bespoke wedding gives you the opportunity to marry where you want, when you want and exactly how you want.
There's no set script and no script 'templates' – it's too personal an occasion for that. Instead, your wedding is written from scratch, in collaboration with you, so it meets your particular  requirements and truly reflects who you are.

You can set the tone that's just right for you: choose your own words; include music and singing; get creative with symbolic or celebratory elements and include other significant people.
Humanist weddings are perfect for couples who would like:
* A meaningful ceremony that isn't religious
* To work with a celebrant who has successfully completed a rigorous, high quality training and CPD programme
* To marry at a location that isn't licensed for civil weddings; including outdoors and at home

* The flexibility to create a personal ceremony that is unique to them and completely adaptable to their particular circumstances

* To get to know the person who will be conducting their wedding
* To celebrate their committment to each other with family and friends, but without legally registering it – perhaps they have already undertaken the formalities overseas, for example.
* To attend the register office to take care of the legal formalities in the days before or after their humanist wedding
* For

CLIENT FEEDBACK

click HERE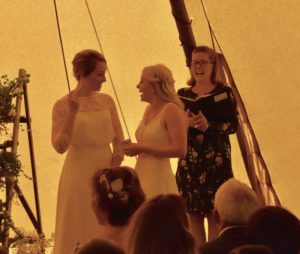 Please remember that in England and Wales, the government currently doesn't allow me to deal with the legal paperwork; you will still need to book with the register office to have your marriage registered in law.
Many register offices offer a very simple 'sign and witness' option and there are no regulations as to when you do this – same day, before, or after your bespoke wedding ceremony.
.