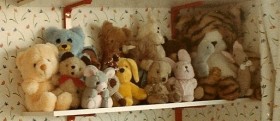 Throughout history, ceremonies have marked the significant milestones in people's lives. It was WB Yeats who said: "How but in custom and ceremony are innocence and beauty born?"
Thank you so much for coming all this way and performing such a lovely ceremony for Arthur. Everyone absolutely loved it and a few said they'd now have Humanist ceremonies in future – even one couple who are religious! Hope to see you soon, for another happy occasion. Alicea & Harry
I wanted to write and thank you very much for putting on such an incredible naming ceremony in Sway, for our dear Winnie. It couldn't have been a more perfect day. So many people commented on what a special service it was and more than a few said how much nicer it was than a christening! Kate & Angus  
A Humanist naming ceremony is not a 'christening'; yet nevertheless holds within it a timeless and meaningful ritual to mark an important rite of passage in your child's life.  It's an opportunity for you and your gathered family and friends to put your collective arms around your child. It's a secular ceremony that welcomes your child to the world; an occasion to formally bestow names that represent your child's inimitable character and distinctive personality.
I will help you create a unique ceremony, perhaps with readings, music and other symbolic acts; a celebration that captures and expresses exactly the love, hopes and dreams you have for your child as you speak the promises you will have written – not just for the day itself, but for life.
There will be other people with whom your child will form a special relationship.  You will ask these guide-parents to add their commitments, not only as they support you to raise and nurture your child; but also, even more importantly, as they help your child to lead a full and happy life.
Dave went beyond expectations. The ceremony in Sopley was so personal and perfect. Highly recommended.  for James
We've just arrived back in Berlin, and wanted to say a big thank you.  We had a very special day for Joseph's ceremony in Buckler's Hard, it was everything that we had hoped it would be and more. It really was perfect and we thank you for your contribution to that. The ceremony was so special, intimate, personal and just how we wanted it. So many people have commented on how great it was. We had such a fab time in the New Forest and we are so pleased that we could welcome Joseph in such a wonderful way. Thank you from the bottom of our hearts.  for Joseph
My fee for 2020/1 is £295. This includes a meeting to get to know you, as a family; writing a unique script, capturing the tone, style and content you desire; my services on the day at the appointed hour and a presentation copy of the script – a keepsake from this special day. If the ceremony is held in the New Forest/Christchurch area, and if we hold our planning meeting at my home in the New Forest, then this fee includes my travel expenses. I will ask you to make a non-refundable, part payment of this fee to confirm the booking.