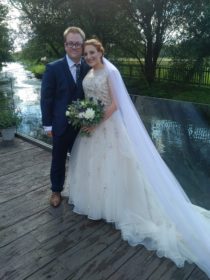 Every Humanist ceremony begins and ends with a story – whether it's the story of a life lived, the story of a life to come or the tale of a couple's journey to marriage.  Stories are a big part of what it means to be human.
Lovers of books – they met at WH Smiths, after all – Rachael & Andy's wedding at Sopley Mill had a particularly story-telling, literary feel.  The telling of their tale began, as Anne Bronte's Gilbert Markham says in The Tenant Of Wildfell Hall, "…at once, with Chapter First, for it shall be a tale of many chapters…"  And so it was.
We heard apt and romantic extracts from Paulo Coehlo's The Alchemist, Jasper Fforde's First Among Sequels and Ernest Cline's Ready Player One.  We even had a special instalment of Andy Relf, Fiction Detective/Rachael, Duchess of Mystery – a zany tale composed, and performed, especially for the ceremony by their friend Simon.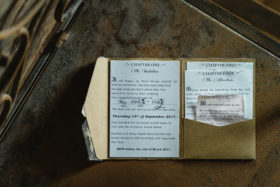 In keeping with the literary DNA of the ceremony we concluded with some words from Mary Ann Shaffer's The Guernsey Literary And Potato Peel Pie Society… "All my life I thought the story was over when the hero and heroine were safely engaged – after all, what's good enough for Jane Austen ought to be good enough for anyone. But it's a lie. The story is about to begin, and every day will be a new piece of the plot."
Maybe Jane Austen did get it right though, when she wrote… "The wishes, the hopes, the confidence, the predictions of the small band of true friends who witnessed the ceremony, were fully answered in the perfect happiness of the union."
…for it was these words that summed up our unique nuptial celebration this afternoon.  Books adorned the ceremony room at Sopley Mill and wedding breakfast favours were enclosed in lovingly created miniatures of the couple's favourite tomes.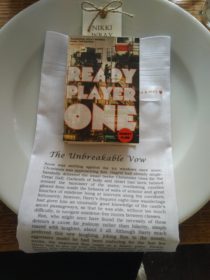 The bear? That held the rings that three-year-old page-boy Sheldon brought to the front… perfectly.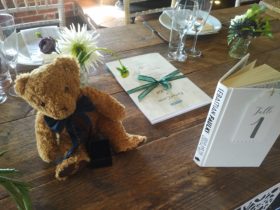 ~~~ooOoo~~~
© David Hewitt  September 2017